We are pleased to announce that
ASC's Gender/Sexuality Research Group invites all BA and MA students interested in gender and sexuality studies to submit abstracts and present their papers at our first student conference
Gender and Sexuality in American Studies.
CALL FOR PAPERS
Gender and sexuality studies are crucial fields in American studies because they provide important insight into social relations, political struggles, and cultural norms.
Gender and sexuality are constructed, which means they vary in different cultures and change over time. Research based on this assumption encourages critical reflection on norms of masculinity and femininity, gender and sexual hierarchies, processes of identity formation, as well as feminisms and LGBTQIA movements.
The aim of the conference is to create a platform for ASC's MA and BA students to present their research projects, facilitate an exchange of inspiring ideas, and allow an opportunity to practice presentation skills.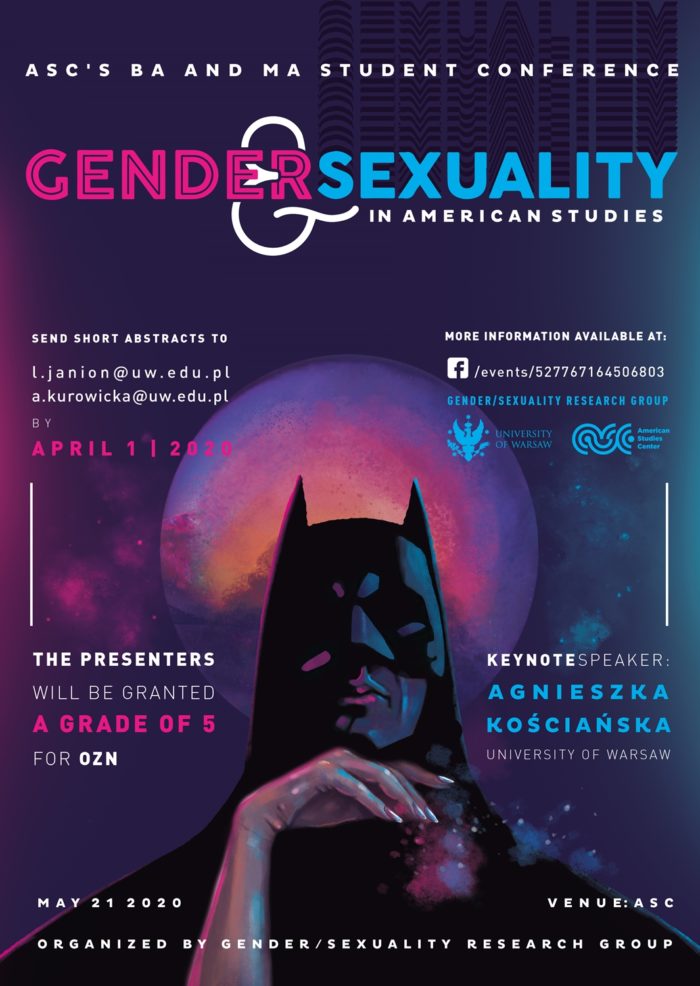 artwork by Magdalena Krzemińska
We invite presentations on topics including,
but not limited to, the following:
representation of gender in pop culture
transgender and non-binary identities
political conflicts over sexual minorities
hegemonic and subaltern masculinities
intersections of race and gender/sexuality
intersections of class and gender/sexuality
intersections of dis/ability and gender/sexuality
histories of gender and sexual identities in the US
the importance of gender/sexuality in the media
non-normative sexualities in American culture and society
political struggles over gender equality
history of feminisms and feminist debates today
If you have a final paper that you are particularly proud of or if you are working on a B.A. paper or M.A. thesis that reflects on these topics, feel free to apply to the conference!
New research is also welcome.
To apply, please send short (250 words) abstracts to
l.janion@uw.edu.pl and a.kurowicka@uw.edu pl
by April 1, 2020.
You can also get in touch with us if you have any questions!
The conference will be held on
May 21, 2020 at the American Studies Center.
All presenters will be invited to a free lunch during the conference and a dinner afterwards.
Application deadline: April 1, 2020.
Acceptance notification: April 10, 2020.
The presenters will be granted a grade of 5 for OZN!
Join here to the event on Facebook.