prof. Richard Reitsma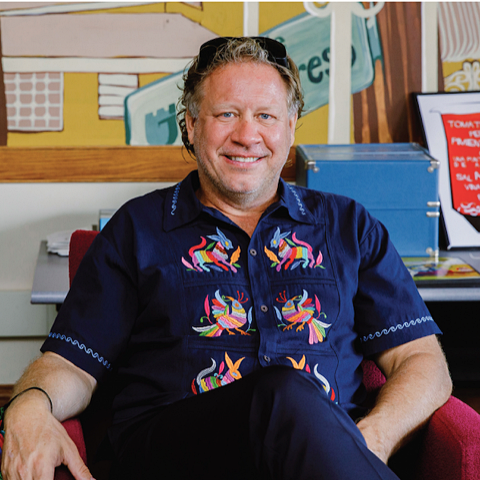 Visiting Professor Exchange Program with Canisius and Daemen Colleges in Buffalo, NY
Room 307
Richard Reitsma, PhD, Chair of the Department of Modern Languages, Literatures, and Cultures, and Associate Professor of Spanish and Latin American Studies at Canisius College, Buffalo, NY, received his M.A. from Purdue University, and his Ph.D. in Comparative Literature from Washington University in St. Louis. His doctoral research focused on issues of gender, sexuality, and race in plantation literature of the American South, Cuba, and Puerto Rico. At Canisius, Richard teaches Spanish, Latin American Studies, and Honors courses. A longtime judge for the Lambda Literary Awards, his current research concentrates on gender and minority representation in literature and film of the American South, U.S. Latinos, and Latin America. Past research and publications include an examination of messages of diversity and tolerance in children's animated movies, an exploration of the tensions between sexuality and ethnic identity in Latino film, and "Lethal Latin Lovers: Sex and Death in Latin American Cinema," and "Sexuality, Masculinity, and the State in Cuba, Puerto Rico, and the Dominican Republic."  Current research revolves around three areas: Interviews with immigrants deported from the United States to Mexico and their struggles to adapt; an historical look at how Buffalo manufacturing profited from slavery in the Caribbean; and an exploration of the LGBTQ movement in Santa Clara, Cuba as a model for intersectionality in the face of crisis.  Dr. Reitsma is also the founder and director of the Borders & Migrations Initiative an interdisciplinary series of films, art work, speakers, workshops, research, teaching materials, and community outreach.
Role at the ASC
Visiting Professor within Exchange Program with Canisius and Daemen Colleges in Buffalo, NY
Achievements
Faculty Associate Dean for Inclusion and Engagement
Chair of the Department of Modern Languages, Literatures, and Cultures
Founder and director of Borders & Migrations Initiative
Canisius College of Arts & Sciences Service Award Winner (2019-2020)
Dr. I. Joan Lorch Canisius College Colleague Award from the Women and Gender Studies Program (March 2014)
Publications
"Teaching Spanish Conversation Through the UAPs: A Pedagogy of Jesuit Values and Mission." Forthcoming in Jesuit Higher Education. Spring 2022.
"Embracing Diversity Through Mission and Identity at Canisius College" AJCUNET October 2021.
"Going Beyond Tolerance and Acceptance." Conversations on Jesuit Higher Education. No. 59. Spring 2021. 18-19.
"Queer (In)Tolerance in Children's Animated Film." Queer Love in Film and Television, Critical Essays.  Eds. Pamela Demory and Christopher Pullen. London: Palgrave Macmillan. 2013. 129-138.
"Quo vadis, queer vato?  Queer and Loathing in Latino Cinema." LGBT Transnational Identity and the Media. Ed. Chris Pullen. London: Palgrave Macmillan, 2012. 231-241.
Courses (selected)
LatinX in the US in Film and Literature
Hobbies
biking, gardening, travel, beaches
Curriculum vitae (PDF)