About us
The American Studies Center of the University of Warsaw is the second largest American Studies department in Europe, offering a vigorous American Studies program, which reflects the breadth and dynamism of the field.
Unique programs
Thoroughly interdisciplinary, the program builds on classical American Studies—US American government and politics, US foreign policy, US history and society, American literature and intellectual history. But ASC's program is unique among such programs in Poland in that it also includes approaches critically engaging the discipline, incorporating ethnic and indigenous studies, critical race theory and Black studies, gender and queer studies, disability studies, and environmental studies.
In teaching, we combine more traditional perspectives with cutting-edge topics.
We are one of the few non–language teaching institutes at the University of Warsaw where all courses are taught in English. While at the BA level our program focuses on the US American Studies, our MA program offers a wider Western Hemispheric perspective and, even more crucially, a highly individualized, research-oriented curriculum allowing students to develop graduate and research skills.
Become our student!
The ASC offers a unique, interdisciplinary American Studies program. At the BA level it focuses on the US American Studies, while the MA program offers a highly individualized, research-oriented curriculum allowing graduate students to specialize in various cultural, societal, and political topics.
BA in American Studies
MA in American Studies
Our location
Since 2023, our Center has been located in a modern and accessible building at Dobra 55, located in the very center of Warsaw, in close proximity to major traffic arteries, the main campus, the University of Warsaw Library (BUW), numerous cafes and restaurants, the Vistula Boulevard and the historic city center.
International faculty
American Studies Center is strongly internationalized — several of our permanent faculty are scholars from the US and Mexico; every semester we host visiting professors from the US and European countries, under the Fulbright Distinguished Scholar Program and bilateral exchange agreements with other universities. Our faculty are greatly invested in research in the US and regularly publish in high-ranking foreign journals. Our own journals — the New Americanist and Revista del CESLA in, respectively, English and English and Spanish — have foreign visibility.
Active student life
We are proud to have brilliant and passionate students whose enthusiasm drives numerous initiatives within our rich institutional culture. They take part in numerous extracurricular activities, such as special guest lectures and workshops, participate in student academic conferences, symposia, exchanges, and publish their work in academic journals.
The ASC Students' Union organizes many fantastic events, such as Thanksgiving Dinner, ASC Picnic, Super Bowl Watch Party and Oscars' Movie Night, giving our students the opportunity to integrate and learn more about American culture.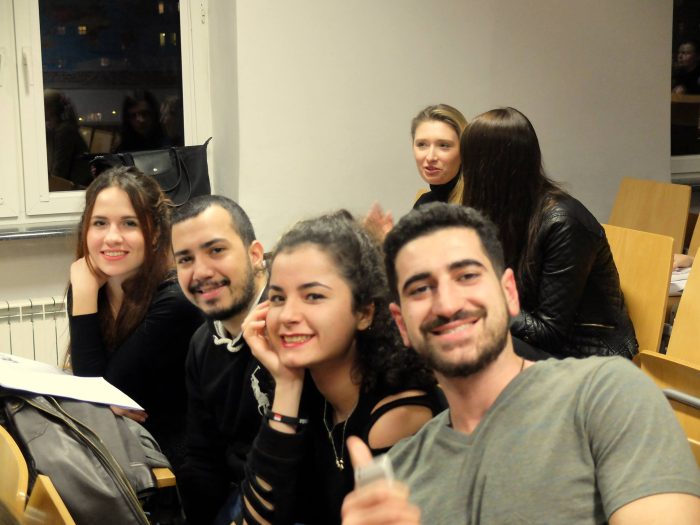 Joining a student organization can be a life-changing experience!
Special events
At the ASC, we introduce our students to the wider academic world of American studies by organizing numerous special events, lectures and workshops. Our guests join us from foreign academic institutions, diplomatic missions, governmental agencies, and non-governmental organizations to share their knowledge and passion related to American history, politics, and culture. Our American Studies Colloquium Series, now in its 13th year, brings together scholars from different national contexts who address a wide array of topics ranging from cultural readings of poetry, through environmental history, to basketball, offering our students the possibility to explore their interests outside of the regular classes.
The ASC houses several research groups, led by senior professors and drawing many graduate students and PhD candidates. Each has a specific line of research — Weird Fictions, Leadership, and Gender/Sexuality. Members of the latter have started their very own podcast "Oswoić gender" on topics related to gender and sexuality research. Each group organizes its own series of events, often open to the public. Our Center also nurtures student research through organizing conferences, such as The Senses of Science Fiction: Visions, Sounds, Spaces (2019) and Gender/Sexuality Conference (2022), most recently.
Research center
Our center provides excellent research facilities for students, scholars, and professionals interested in the field. We promote American Studies in Poland and Europe by conducting research, hosting conferences, debates and various events open to the general public and by being active in several US American Studies and Latin American Studies associations (Polish Association for American Studies [PAAS], European Association for American Studies [EAAS], American Studies Network [ASN], Consejo Europeo de investigaciones sociales de América Latina [CEISAL]).
Did you know that our Center is 47 years old this year? Established in 1976 as a research institute, the Center first opened its MA program in 1992.
Library
The American Studies Center Library has been collecting humanities and social science publications on the United States of America since 1976. Drawing on long-term financial support from numerous US institutions and foundations, we have built the largest American studies collection in Poland, which is further enhanced by interlibrary loans. In 2017, the collection of the UW Center for Latin American Studies (CESLA) was added to the ASC Library holdings. The Library is open access and uses the Dewey Decimal System.