MA in American Studies
From film and television to political science, from economics to gender and sexuality studies, from social science to popular culture. We have it all and more.
Unique program
Our MA program integrates the structure of American graduate programs with the uniqueness of European views of the United States. In many countries, American Studies has been traditionally rooted in literary studies and history. We naturally offer courses in these, but our faculty represent a full spectrum of US-related interests and disciplines. From film and television to political science, from economics to gender and sexuality studies, from social science to popular culture – we have it all and more. In many cases, our focus on the United States also leads beyond that country. As a cultural studies department, we prepare our students for advanced thinking about any place. And any time. And any people.
We provide you not only with a degree but also with skills and resources to better navigate the complexities of today's world. 
Why study with us?
The MA in American Studies is highly individualised, interdisciplinary, and centrally research-oriented, shaping in our students critical thinking and appetite for challenging questions that do not come with easy answers. These competencies certainly prepare our graduates for doctoral programs, but they are hardly unique to academia and figure equally essentially in creative industries, journalism, advertising and marketing, think-tanks and NGOs, art and culture management, and many others. Central to our training is the exclusive use of English in all aspects of academic work, as is an emphasis we put on transforming research into writing. Yes, you write a lot with us, but we will teach you how to hone your thinking and put it to (increasingly metaphorical) paper.
MA in American Studies
Click on the poster below
to read our
prospectus for candidates!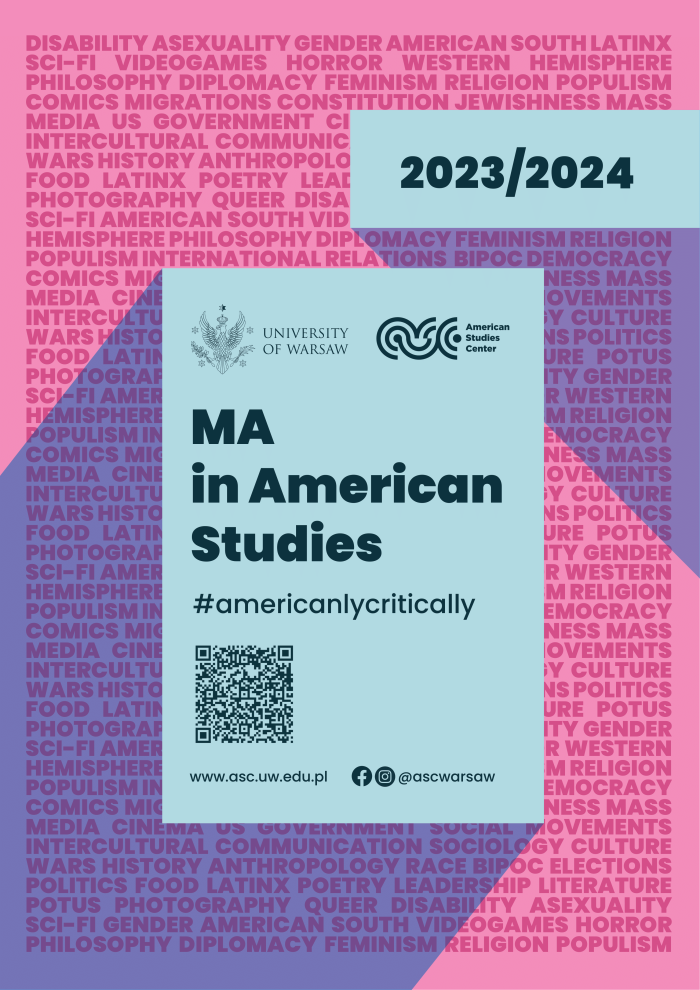 Our teaching approach
The practical aspect of our program's modeling after the American graduate school is that most courses are choice-based. Instead of long lectures in stuffy lecture halls, we offer small group sessions, perfect for seminars and class discussions. We treat students as contributors, not just recipients, and we focus more on student participation and individual growth. We give you the opportunity to present your ideas in the culture of mentoring and extracurricular education during the classes as well as outside of it, during conferences and projects you want to partake in.
Our classes
Apart from a few mandatory classes during the first year, students choose a range of research-intensive proseminars through which they can develop their interests. Depending on their interests, you can pursue coursework in American literature, media, culture, society, history, and politics.
Research proseminars
Our flagship course, research proseminar, enables students to gain research skills, such as working with sources, reviewing academic literature, interpreting data, and writing well-rounded academic papers. Some of our research proseminars offered in previous years include: Social Movements and Social Change in Contemporary America, Introduction to Comics Studies, American Political Parties: Continuity and Change, Contemporary American Cinema, The Unruly Bodies of American Film and Fiction, U.S. Cultural Nationalism, New York and Chicago: The Cities and Their People.
Course catalogues
Our offer changes each year! Over the years the American Studies Center has offered a variety of courses for students to choose from. The catalogues are a quick and convenient tool to browse through the Center's most recent course offerings.
About us

Established in 1976 as a research institute, the American Studies Center first opened its MA program in 1992. Today, the ASC is the second largest American Studies department in Europe, offering a vigorous BA and MA American Studies programs, which reflect the breadth and dynamism of the field. We are one of the few non–language teaching institutes at the University of Warsaw where all courses are taught in English. We are proud of our brilliant and passionate students, whose enthusiasm drives numerous initiatives within our rich institutional culture. Our Center is strongly internationalized – several of our permanent faculty are scholars from the US and Mexico, and every semester we host visiting professors from the US and European countries. 
Admission criteria
There are two stages of the admissions process: submission of a short Research Interest Statement and participation in an oral exam based on this Statement. The purpose of the admissions process is to select candidates who would benefit from our research-oriented program and have some ideas about what they would like to research over the course of their studies.
The American Studies Center taught me critical thinking and constant questioning. It provided academic development in various areas: from literature, history, and geography to politics, society, and digital media. It was not limited to the United States but offered a solid foundation in humanities in general. Nowhere else will you learn cultural text analysis, writing, and public speaking like at the ASC.
—Barbara Szukała, MA graduate of 2019
After your studies
The focus on culture and society enhances our alumni's cultural competency, communication skills, and critical thinking, setting them up for success in business ventures, nongovernmental organizations, cultural institutions, government agencies, research and educational institutions, museums, political action groups, social service agencies, youth-development institutions. By fostering curiosity about the world and elevating students' English skills, our studies also develop core competencies needed in fields such as film industry, journalism, arts, tourism, and much more.
See what our former students think about studying at the ASC!
Fees
The MA program is free for students from Poland, EU, EFTA and Swiss Confederation. For other students the tuition is 4600 EUR for each year.
Contact
Should you have any questions about the admission requirements for this programme, please get in touch with the Head of Admissions Committee.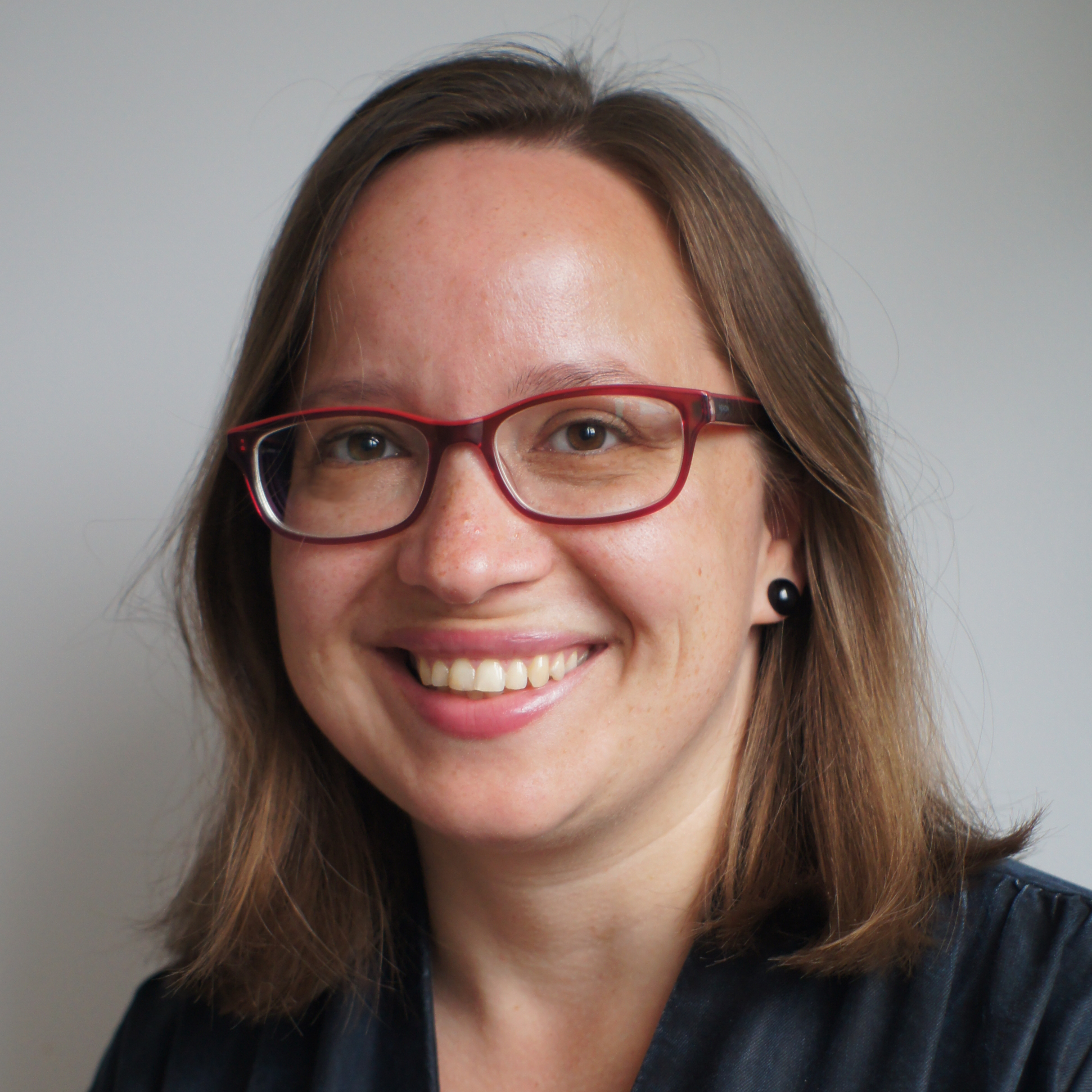 dr Anna Kurowicka
Head of the Admissions Committee
Room 3.055
If you want to ask about the program or student life, feel free to reach out to the ASC Counselor for Students' Affairs.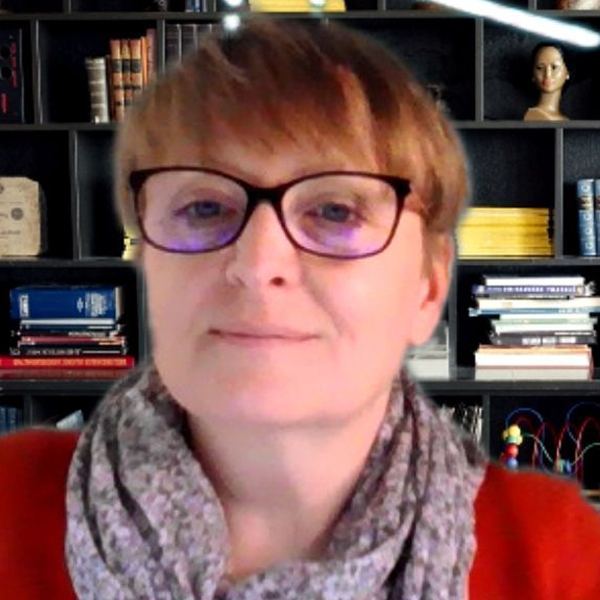 dr Małgorzata Gajda-Łaszewska
+48 22 55 333 19
Room 1.043
Office hours in Fall semester 2023/2024:
Tuesdays, 11:45 – 12:45, 15:00 – 16:00, online via ZOOM, book your appointment at Doodle
Thursdays, 12:00 – 14:00, room 1.043