dr Agnieszka Kotwasińska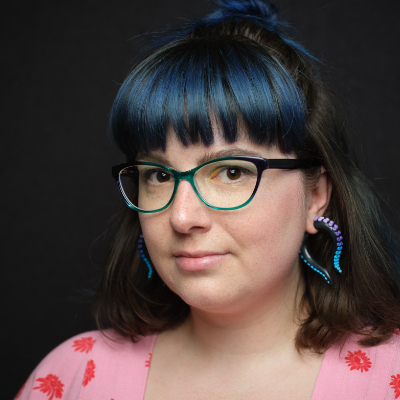 Agnieszka Kotwasińska holds M.A. degrees from the Institute of English Studies and American Studies Center, the University of Warsaw. In 2017 she received her doctoral degree in literary studies from the University of Warsaw. In her doctoral dissertation she analyzed transformations of American families and kinship structures in contemporary horror fiction by women. Since 2012 she has been working at American Studies Center, where she offers courses in American literature, genre literature, horror cinema, and new media. She specializes in Gothic and horror studies, gender studies and queer theory, and feminist new materialism(s). Her current research interests center on literary and film canon formation, embodiment in the so-called low genres, reproduction of death in horror narratives, weird fiction(s) and schizoanalysis.
Role at the ASC
Co-coordinator of the American Studies Colloquium Series (with Dr. Marta Usiekniewicz)
MA Practical English coordinator
Head of the Weird Fictions Research Group
Achievements
Jury member of the Mary Kay Bray Award (Science Fiction Research Association) – 2018-2021
Monthly FemTeoria workshops coordinator – since 2017
PAAS Best American Studies Master's Thesis winner – 2010
Publications
"Dis/Possessing the Polish Past in Marcin Wrona's Demon." Humanities 9/ 3 (2020): 59.
"Beyond Death and Mourning in A Dark Song and We Are Still Here." Kvinder, Køn & Forskning (Women, Gender and Research), Special Issue on Queer Death Studies: Coming to Terms with Death, Dying and Mourning Differently 28/3-4: 74-85.
"Slavic Cinema." In The Palgrave Handbook of Contemporary Gothic, edited by Clive Bloom, 725-743. Palgrave Macmillan, 2020.
"W stronę kina doznań: Welp i schizoanaliza." [Towards the Cinema of Sensation: Welp and Schizoanalysis] In Feministyczne nowe materializmy: usytuowane kartografie, edited by Olga Cielemęcka and Monika Rogowska-Stangret, 220-247. Lublin: e-naukowiec, 2018.
 "Un/re/production of Old Age in The Taking of Deborah Logan." Somatechnics 8/2 (Sep 2018): 178-194. 
 "'We Won't Eat You, Dear': The Collision of Class, Scales, and Body Horror in The Lure." Frames Cinema Journal 11 (May 2017). http://framescinemajournal.com/
"Życie na przemiał w Hannibalu: Nekropolityczna produkcja męskości." [Wasted Lives in Hannibal: Necropolitical Production of Masculinity] In Po humanizmie: Od technokracji do Animal Studies, edited by Zuzanna Ładyga and Justyna Włodarczyk, 109-137. Gdańsk, Poland: WN Katedra, 2016.
Courses (selected)
American Horror Cinema
Haunted Space in American Culture
Monsters and Machines: The Fantastic Body in American Popular Culture
Popular Genres in the US
Nostalgia in American Popular Culture
The New Indie Cinema
Beyond the House of Usher: American Gothic Today
Hobbies/non-academic interests
baking, tapestry weaving, micro-gardening