Research
The American Studies Center of the University of Warsaw is an institution of vibrant research in American Studies and related fields. Its faculty publish monographs, scholarly editions, and articles, often with major publishing houses and journals.
Their research is regularly funded by the Fulbright Foundation, the Kosciuszko Foundation, National Science Center Poland, Humanities in the European Research Area network (HERA), and many other smaller research centers and archival libraries. The ASC publishes two scholarly journals of growing reputation and impact: The New Americanist and Revista del CESLA. They are, respectively, English language and English and Spanish language peer-reviewed publications in the area of widely conceived American Studies. The ASC houses several research groups, led by senior professors and drawing many graduate students and PhD candidates. Each has a specific line of research—American Leadership, Gender/Sexuality, Speculative Texts and Media, Development Dilemmas of Latin America and the Caribbean, and Brazilian Studies. Each research group organizes its own series of events, often open to the public, thus promoting their areas of interest. The American Studies Center nurtures research among its students at both undergraduate and graduate levels. It supports student conferences and sponsors students' best research projects by awarding them research grants.
Research projects
Current Research Projects
Past Research Projects
Cruising the 1970s: Unearthing Pre-HIV/AIDS Queer Sexual Cultures
Principal Investigator: dr hab. Tomasz Basiuk
HERA (Humanities in the European Research Area) "Uses of the Past" call, European Union
2016-2019
In partnership with the University of Edinburgh, Humboldt University of Berlin, and University of Murcia
Team members:
dr hab. Agnieszka Kościańska
dr hab. Błażej Warkocki
dr Wojciech Szymański
mgr Krzysztof Zabłocki
mgr Karolina Morawska
dr Jędrzej Burszta
mgr Magdalena Staroszczyk
in cooperation with Karol Radziszewski.
---
Experimental Cinema and Social Change: The Films of Barbara Hammer
Principal Investigator: dr Krystyna Mazur
National Science Center
2015-2018
---
Robert Lowell's Lost Prose
Principal Investigator: dr hab. Grzegorz Kość
National Science Center
2013-2017
---
American Philanthropic Activities in Interwar Poland and Their Impact on the Evolution of Polish and Jewish Public Health Systems: Culture, History, Identity (Amerykańska działalność filantropijna w międzywojennej Polsce i jej wpływ na kształtowanie się polskiego i żydowskiego systemu zdrowia publicznego: kultura, historia, tożsamość)
Principal Investigator: dr hab. Sylwia Kuźma-Markowska
Ministry of Science and Higher Education, National Program for the Development of Humanities
2013-2017
---
Explaining Economic Backwardness: Post-1945 Polish Historians on Eastern Europe (translation)
Dr hab. Anna Sosnowska-Jordanovska
Ministry of Science and Higher Education, National Program for the Development of Humanities
2014-2016
---
New Communication and Innovative Teaching Strategy for Building and Bridging American Studies Communities in the 21st Century
Principal Investigator: dr hab. Bohdan Szklarski
US Department of State, Embassy Warsaw, Poland, PAS
2014-2015
---
The Dynamics of the Perceptions of the USA in Poland since 1956
Principal Investigator: dr hab. Bohdan Szklarski
US Department of State, Embassy Warsaw, Poland, PAS
2013-2015
---
Polish Greenpoint and New York City: Territorial Prestige and the Immigrant Labor Market 1980-2005
Principal Investigator: dr hab. Anna Sosnowska-Jordanovska
Foundation for Polish Science
2007-2010
Recent publications
Journals

The latest issue of The New Americanist
The New Americanist
The New Americanist is an interdisciplinary journal publishing scholarly work on the United States and the Americas broadly considered. We are especially interested in work which includes a global perspective, introduces new critical approaches, and proposes theoretical frameworks to the study of the US. We welcome contributions from scholars from around the world and across the humanities and the social sciences.
Print copies of our first issue are available upon request. Please write to newamericanistjournal@gmail.com to request a copy.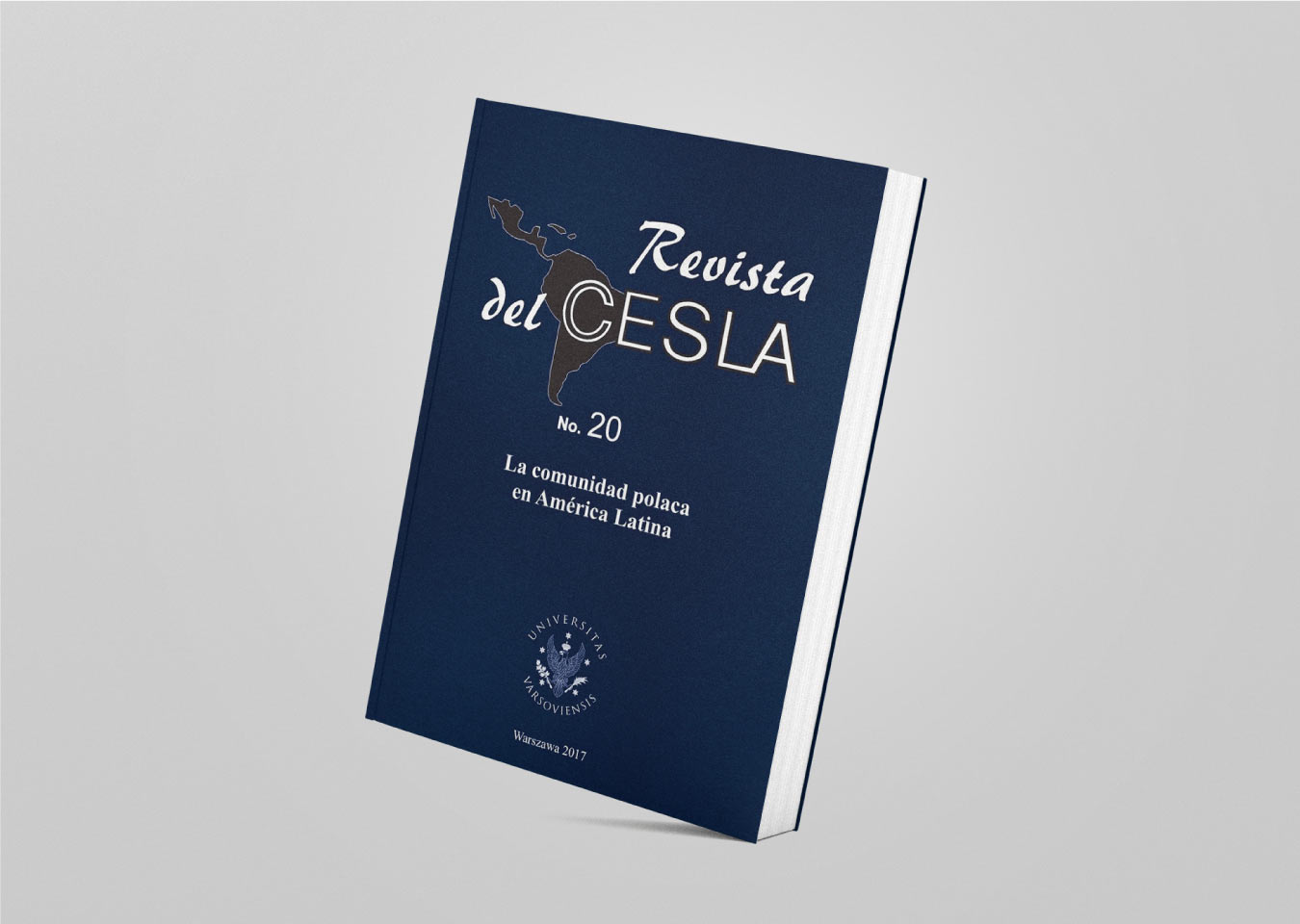 The latest issue of Revista del CESLA
Revista del CESLA
Revista del CESLA. International Latin American Studies Review is a biannual (since 2018), inter-­ and cross-disciplinary, peer­-reviewed scientific journal, first published by the Center for the Latin American Studies (until 2017) and, since, by the University of Warsaw.
Research Groups
Gender and Sexuality in American Culture Research Group
Head: dr hab. Karolina Krasuska
The group was formed in early 2016 in order to facilitate cooperation between doctoral and advanced MA students working, studying at, and affiliated with American Studies Center. Under Dr. Karolina Krasuska's tutelage, the group has organized a number of seminars devoted to different research methodologies and research practices within the field of American cultural studies. The topics covered during these seminars include disability studies, girlhood studies, hauntology, gender variance in Poland, gender and militarism, female wartime reporting, and queer desires in American speculative fiction. Since 2016 the group has invited such eminent scholars as Prof. Andrea Peto, Prof. Mary Ann Doane, and Prof. Jack Halberstam to deliver lectures and lead highly popular seminars. In the summer semester of 2017/2018 the group will be working on a close reading and subsequent translation of Judith Butler's seminal Bodies that Matter: On the Discursive Limits of Sex published in 1993.
Speculative Texts and Media Research Group
Head: dr hab. Paweł Frelik
The Speculative Texts and Media Research Group offers a forum for scholars and researchers interested in the broadly understood fantastic genres, such as science fiction, fantasy, and dystopia, as well as audiovisual media, including video games. What connects these diverse genres and media is their mode of speculation, which proposes to look at the world not in purely mimetic terms but through speculation, extrapolation, and futurism. Given the almost complete lack of long­term discussions in contemporary culture, the fantastic has been the only cultural site that has so systematically and comprehensively engaged the question of tomorrow. Gathering graduate students, scholars, and researchers from a range of disciplines interested in the above issues and questions, the Speculative Texts and Media Research Group organizes regular meetings, public lectures and seminars, and larger academic events
Weird Fictions Research Group
Head: dr Agnieszka Kotwasińska
Weird Fictions Research Group emerged in early 2020 out of the W.E.I.R.D. Students' Reading Group which was established in 2018 at the American Studies Center, the University of Warsaw. Our research group invites students and early career researchers interested in all types of weird fictions. If you enjoy weird fiction, SF, horror, and fantasy, our research group is a place for you. Join our discussions, movie screenings, seminars, guest lectures, and special events. We meet twice every month. Our Fall 2018 schedule was devoted to questions of taste and paranoid reading, SF graphic novels, nostalgia and 80s animation. In the spring of 2019 we looked at cyber-punk and the posthuman. During Fall 2019 we discussed body horror in different cultural texts, while in Spring 2020 we talked about hybridity, monstrosity and transgression in SFF/horror/the weird.
Leadership Studies Research Group
Head: dr hab. Bohdan Szklarski
Presidents, prime ministers, commanders, CEOs, and cultural icons as leaders of people and organizations often become heroes of collective imagination. Who has not heard of Caesar, Washington, Roosevelt, Hitler, Martin Luther King, Michael Jordan, Bono, or Steve Jobs. Such personalities inspire followers, move crowds, control institutions, create innovations and become indispensable elements of public sphere. Today, in a globalized and anarchic world, leaders and leadership in all spheres of human interest, from politics to business and culture, have become a noteworthy research subject at almost all major universities. The Leadership Studies Research Group wishes to make a contribution to the understanding of modern world through such activities as (1) academic study of all aspects of leadership and building a community of researchers and students; (2) dissemination of knowledge about leaders and leadership among general public; (3) facilitation of collaborative endeavors with those who study and practice leadership. We invite everyone who shares our conviction that politics, business, art or sports are made by people who leave their mark on us.
Brazilian Studies Research Group
Head: dr Renata Siuda-Ambroziak (On leave)
The Brazilian Studies Research Group at the American Studies Center of the University of Warsaw was established with the endorsement of the Embassy of Brazil in Warsaw to create a forum for researchers from Poland and abroad dealing with broadly understood Brazilian Studies, including both humanities and social sciences. The focus of the research group is primarily on contemporary Brazil—its culture, society, politics and economy, as well as migration issues concerning the Polish presence in Brazil. The group's research interests also include historical studies on Brazil and the Polish-Brazilian relations. The group welcomes anyone interested in Brazil who wants to deepen their knowledge of this country, participate in academic events devoted to it and in Brazil-oriented research projects. The group is affiliated with another one, Polish-Brazilian Research Group for Studies on the Polish Diaspora in Brazil, also headed by Dr. Siuda-Ambroziak. It was founded in January 2019 at the LEER Laboratory of the University of São Paulo in Brazil.
Our Conferences
EAAS 2020 Conference – 20/20 Vision: Citizenship, Space, Renewal
The Biennial Conference of the European Association for American Studies will take place at the University of Warsaw on May 1-3, 2020.  EAAS 2020 Conference coincides with the 400th anniversary of the establishment of the Plymouth Plantation. Falling on the quadricentennial, EAAS 2020 invites broader contemplations of American history, politics, and culture. The conference seeks to underscore questions of optics, distance, and acuity. The concept of "20/20 vision," an optical term denoting "normal" visual clarity and sharpness of sight, invites a reflection on historical distance, focal points, visibility and invisibility of socio-historical, cultural, and literary aspects of American citizenship, space, and renewal until today. Link to the conference website: http://eaas2020.eu/