We are delighted to invite you to the opening lecture of the 2022/2023 Spring semester of the American Studies Colloquium Series:
Elizabeth Dunn
(Indiana University Bloomington)
Violent Divisions: Family Separations, Industrial Accidents and other Disconnections among Refugee Workers in the American Food System
 This is an in-person event.
Thursday, March 9, 2023
at 4:45 p.m.

You can get 3 OZN points for participating in this event.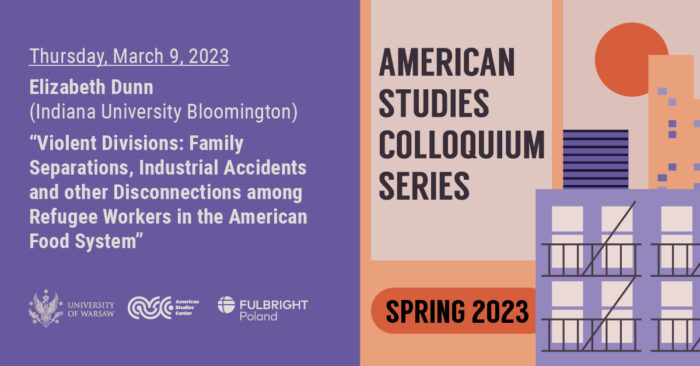 Where?
Dobra 55, room 2.118
(the building features some mobility accommodations: ramp and lift)
What?
Globalization is often seen as a process of expanding connections between distant people, things and places. In this talk, however, I look at Rohingya refugees in the American food system to show how capitalism relies on a continuous process of violent separations. Refugees are ripped away from their places of origin, often separated from their families for years on end, and, in the meatpacking industry, frequently pushed into dangerous jobs that risk separating them from parts of their own bodies, all in the service of making record profits for the meat industry. Focusing on processes of refugee resettlement in Greeley, Colorado, I show how Rohingya people contend with these risks in social, economic, political and religious ways as they attempt to make fractured lives whole again.
Who?
Elizabeth Cullen Dunn is Professor of Geography and Director of the Center for Refugee Studies, Indiana University. She has conducted fieldwork on labor and forced migration for nearly 30 years, and has done fieldwork in the food industry in Poland, the Republic of Georgia, and the United States. Her best known book, Privatizing Poland, was reissued in Polish translation as Prywatyzując Polskę (Krytyka Polityczna).   Her latest book, No Path Home: Humanitarian Camps and the Grief of Displacement was published by Cornell University Press.