We are delighted to invite you to the third lecture of the 2022/2023 Spring semester of the American Studies Colloquium Series:
Penny Messinger
(Daemen University)
Understanding Appalachian Otherness
 This is an in-person event.
Thursday, May 18, 2023
at 4:45 p.m.

You can get 3 OZN points for participating in this event.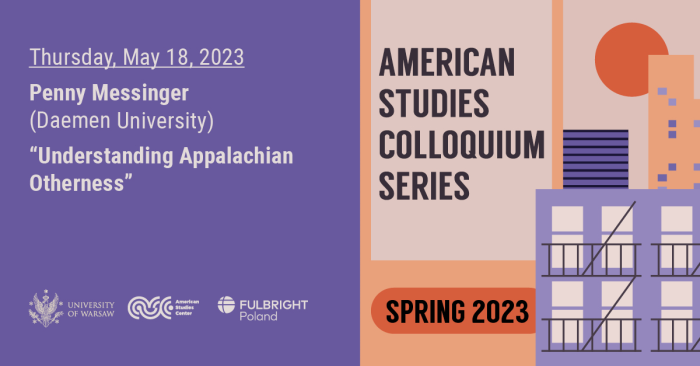 Where?
Dobra 55, room 2.118
(the building features some mobility accommodations: ramp and lift)
What?
The Appalachian region of the US is a place surrounded in myth and stereotypes. This presentation explains the various scholarly and popular understandings of Appalachia, contrasting the definition of the region based upon geographic, economic, and cultural criteria, and discussing the differences between Northern and Southern Appalachia. One of the first scholarly studies of the region, John C. and Olive Dame Campbell's 1921 monograph, The Southern Highlander and His Homeland, emphasized the "super-rural" aspect of life in the region as a defining characteristic, highlighting an aspect of Appalachia that is closely identified with the region a century later. This emphasis on rural life and a close relationship with the land (including the "land economy") shaped an understanding of Appalachian "otherness" that has been used to define whiteness, American norms, and an idealized rural past. The stereotypes of mountain people that emerged in the late 1800s cast them simultaneously as the "contemporary ancestors" of more "modern" white Anglo-Saxon Protestants and as inbred "hillbillies." Notably, these stereotypes emerged in concert with the growth of American industry, which was fueled by the extraction of Appalachian coal, oil, and timber. I end by juxtaposing this historical understanding of Appalachian otherness with a discussion of America's rural/urban divide and J.D. Vance's rise to prominence as the author of his best-selling memoir, Hillbilly Elegy, and with his successful campaign for the US Senate.
Who?
Dr. Penny Messinger is associate professor of history at Daemen University, Amherst, NY, US. She teaches a wide range of courses in American history, women's history, and women's studies, and recently stepped down as chair of the Department of History & Political Science (2016-22). Messinger's scholarship addresses the history of the Progressive Era, the Appalachian South, and reform and radicalism. One current research project focuses on Dr. Ann Mogilova Reinstein and Boris Reinstein, transnational revolutionaries based in Buffalo. She is also collaborating on a project exploring the teaching of history that addresses the "history wars" and the relationship of popular and academic history. Messinger holds a MA and PhD from the Ohio State University and a BA from Marshall University.