WarSAW: Go & Explore is an initiative started by students of the American Studies Center and the Volunteer Centre of the University of Warsaw. This project has been created for those who look for inspiration, would like to get to know Warsaw even better but not necessarily want to read tourist guides.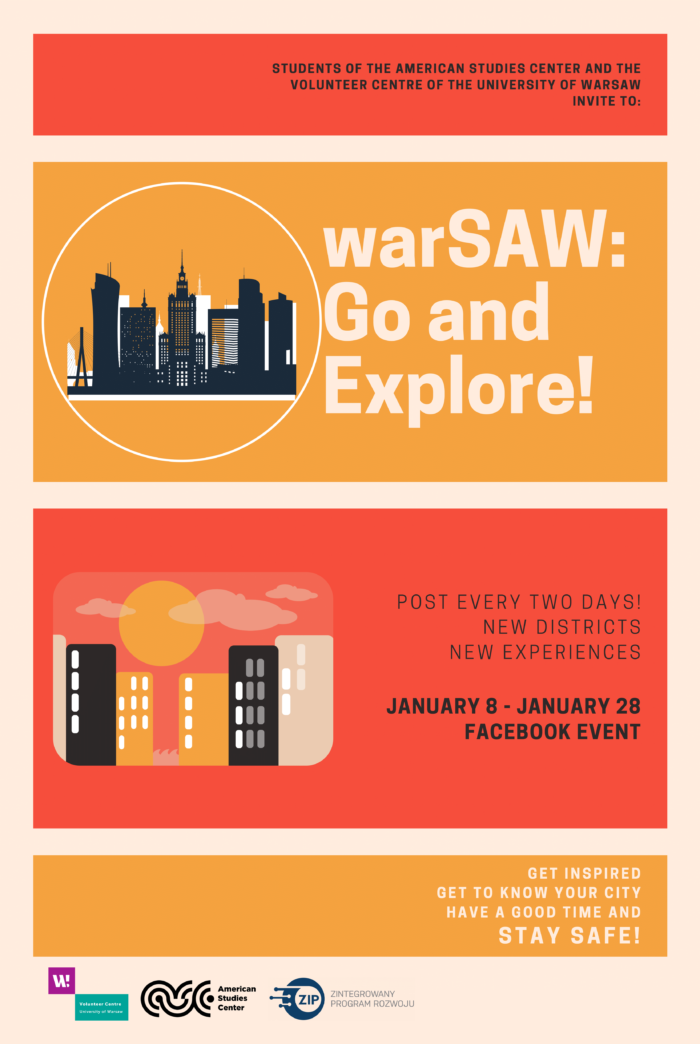 For whom?
​Perhaps due to the pandemic you have been stuck at home or lacked energy to go out? Or maybe you just didn't know where to go? It doesn't matter if you just came to Warsaw for a student exchange, you are a first year student or you have already been living in Warsaw for a while but still feel like you don't know the city well enough, WarSAW: Go & Explore is here for you!
You know what they say— New Year, New Me! So join us and explore Warsaw's districts from a local perspective. Beginning of the New Year is always a good time for changes, new ideas and new experiences. That's why we encourage you to go outside and explore all places you didn't know that Warsaw has to offer. Walks combined with sightseeing are a perfect solution to clear your head, take a break from your responsibilities or just another idea to spend time with friends and family.
Join us!
WarSAW: Go & Explore is an initiative that you can participate in as well— all you have to do is add your ideas, favorite places and recommendations for future walks in the comments under a post about a certain district.
Let's be honest, this pandemic has given us a hard time and we all have felt that. That's why we want to motivate you to discover new places, take your close ones and make plans to try out new food as soon as restaurants will open again!
So what's the plan?
Every two days, on the event site we will upload a post presenting one of Warsaw's districts prepared by one of our team members. The selection of places is rather subjective and shows how different a perception of a certain space, that not everyone might consider interesting, can be. We hope that thanks to our project you will discover new murals, buildings, and cafes not mentioned in regular tourist guides, which are an integral part of the city we all live in, and therefore, feel more at home in Warsaw.
Join the Facebook event to stay updated and start exploring Warsaw with us!
You can also check this interactive map with recommended places:
… but safety first!
Please remember to follow current COVID-19 restrictions and take care of your safety! Stay home if you feel sick and postpone the exploration for better times, if necessary.
The event is organized by students of the American Studies Center in cooperation with the Volunteer Center of the University of Warsaw as part of Practical Project: Multicultural Volunteering at UW, which constitutes a part of the Master's program, co-funded by the The University's Integrated Development Programme (ZIP).