Join Weird Fictions Research Group for our second Mythos, Inc. meeting this semester.
Our group's member, Bartłomiej Gąsiorek (University of Warsaw) will deliver a talk on "Blood, Guts, Quirks and Frames: Greek Myths in Video Games," which we'll be followed by a Q&A.
Tuesday, April 25, 2023
at 5:30 pm
You can get 2 OZN points for participating in this event.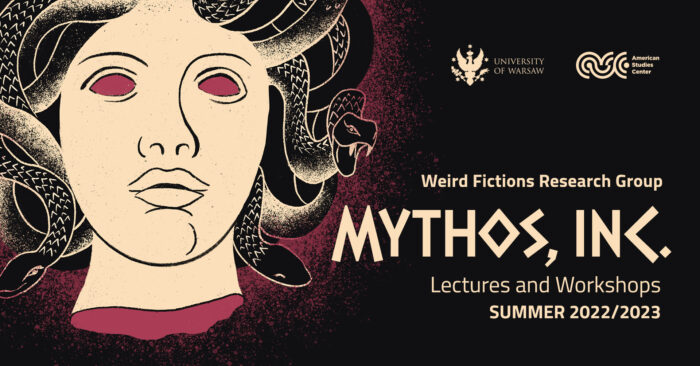 What?
Nearly three thousand years ago, in ancient Greece, mythological and semi-legendary reigned in people's hearts: heroes, demi-gods, monsters and more. Nowadays, all these myths are still, if not more, popular. This lecture will take a look at how contemporary video games take inspiration from ancient myths, often giving in return not only better visuals, but new depth, new meaning, even whole new stories. Beginning in the gloom of ancient past, all through the decades of the 21st century, we will discuss such titles as The God of War series, Titan Quest, Zeus: Master of Olympus and Hades.
Who?
Bartłomiej Gąsiorek is a perpetually tired student at University of Warsaw. Currently in the second year at the American Studies Center. Some time ago, in a choice between running in a meadow from dusk till dawn and a student life of unremitting stress, he unwittingly opted for the latter. He joined the Weird Reasearch Group in 2021, at the start of his academic journey. In addition to video games and Greek mythology, his interests also include books: fiction literature, adventure, gothic horror and science fiction. He's fond of Edgar Allan Poe's works and most of Dracula's adaptations. In his free time, he devotes himself to drawing and painting. He enjoys it as much as taking naps during lectures.