We are pleased to announce an online lecture by
Sam McBean
(Queen Mary University London)
Queer Ecological Networks
This lecture is going to be the a part
of the 2020/2021 Spring Edition of the
American Studies Colloquium Series.
Thursday, April 29, 2021
at 4:45 p.m.
You can get 2 OZN points for participating in this event.
Check how to collect OZN points online.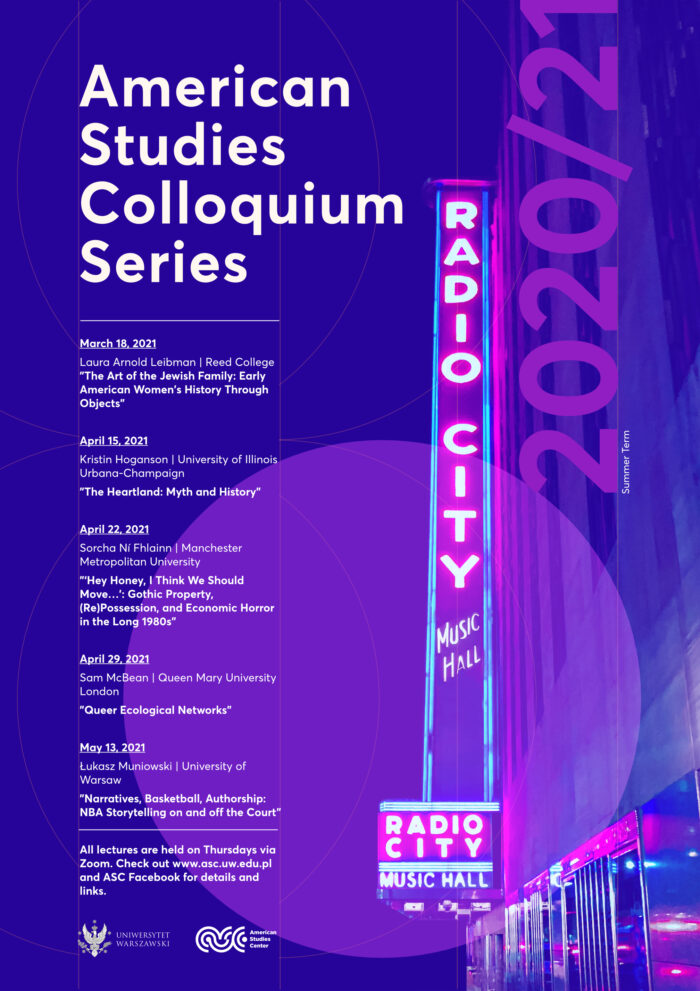 poster by Paulina Derecka (@paulinaderecka)
What?
In 2020, I reviewed the photographer Ren Hang's retrospective at C/O Berlin, 'Love, Ren Hang' for The White Review. In this review I considered how Hang's photos consistently explore the kinds of shapes that bodies might make in relation to each other and I hazarded that this interest in orientation might be a queer one. My review was titled 'Bent out of shape', a play on the homophobic term 'bent' – where to be bent is to be misshapen, malformed, pointed in the wrong direction. I suggested that rather than the more explicit references to same-sex desire in his work, what makes his work queer is his interest in expanding the possibilities of how bodies might be in touch and how they might be arranged.
In this talk, I want to revisit and expand this thinking on queerness as an exploration of foreclosed orientations, intimacies, and bodily affiliations. In continuing to think through the centrality of form and patterning to how we might understand desire, I want to expand the frame of my original piece to include not just human touch and human contact, but also the role of the nonhuman in his photography – namely, the animals that I didn't initially see. Drawing on recent work in queer ecology, I will offer a reading of Hang's work, and its queer play with forms and patterning, that might account for the centrality of the nonhuman to this play.
Who?
Sam McBean is Senior Lecturer in Gender, Sexuality, and Contemporary Culture at Queen Mary University of London. She is the author of Feminism's Queer Temporalities (Routledge, 2016) and has published on contemporary literature and culture, and queer and feminist theory in journals including Feminist Review, Feminist Theory, Camera Obscura, and new formations.