We are delighted to invite you to the fourth lecture of the 2022/2023 Spring semester of the American Studies Colloquium Series:
Ewelina Wnuk
(University of Warsaw)
English Language Bias and the Generalizability Problem in the Face of Global Linguistic Diversity
 This is an in-person event.
Thursday, May 25, 2023
at 4:45 p.m.

You can get 3 OZN points for participating in this event.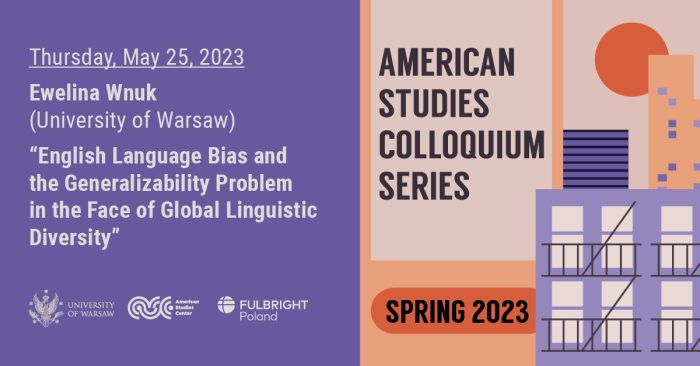 Where?
Dobra 55, room 2.118
(the building features some mobility accommodations: ramp and lift)
What?
According to different sources, there are between 6,000 to 8,000 languages spoken in the world today. While linguists are continually making progress in documenting and describing this incredible linguistic diversity, many academic fields tend to rely on English as a model language and do not question the generalizability of findings from studies done with English speakers.
In this talk, I will illustrate how English is in some respects unusual and how focusing on it exclusively might provide a biased picture of language and the human mind. My primary focus will be on semantics of perception terms and everyday lexical categories we take for granted such as "blue", "square", and "smell". To illustrate my points, I will use data from lesser-known languages, focusing especially on my empirical research with Maniq, an Austroasiatic language spoken by a small hunter-gatherer community in Southern Thailand. This data will be used to argue that—rather than being close analogues of English—languages are in fact extraordinarily diverse. Paying attention to this diversity is key to discovering not only the full scope of what is possible, but also the truly universal tendencies in how linguistic meaning is shaped.
Who?
Ewelina Wnuk is a research fellow at the Faculty of Modern Languages, University of Warsaw. She received a PhD from the Max Planck Institute for Psycholinguistics and has worked as a researcher at the Centre for Language Studies, Radboud University, and the Anthropology Department, University College London. Since 2009, she has been conducting fieldwork-based research among the speakers of Maniq – an Austroasiatic language spoken by a group of nomadic hunter-gatherers in Thailand. Her research interests include semantics, cross-linguistic diversity, and the relationship between language, culture, and the mind.