We are delighted to invite you to the last talk of the Fall 2022/2023 semester of the American Studies Colloquium Series:
Selma Bidlingmaier
(Humboldt University of Berlin)
Covid and a History of Racialized Asian Bodies in the US
 This is an in-person event.
Thursday, January 19, 2023
at 4:45 p.m.
You can get 3 OZN points for participating in this event.
Check how to collect OZN points online here.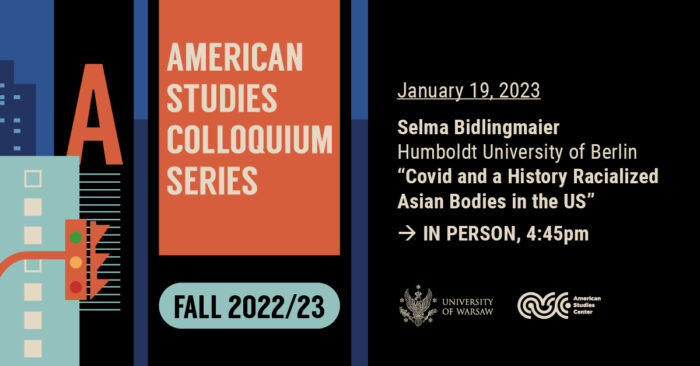 Where?
Room 317
al. Niepodległości 22, Warsaw
(the building features some mobility accommodations: ramp and lift)
What?
Anti-Asian racism has been on the rise since the covid pandemic began. This talk examines the historical moments in US history that shaped the ideas that fuel anti-Asian racism. I will focus specifically on 19th Century scientific racism, coolie labor and the making of the white working class, and the 20th Century myth of the model minority.
Who?
Selma Siew Li Bidlingmaier is a lecturer at Humboldt University Berlin. She is educated in the US and Germany and has attained degrees in psychology, Anglophone literature and American studies. Her PhD, "Re-habilitating Chinatown," addressed the politics of representation in Chinese American literature and calls for a re-reading of Chinatowns as Lefebvrian lived spaces. Her postdoctoral project traces the social and cultural history New York City's gentrification to the Progressive Era, which she argues laid the foundation for urban eugenic policies throughout the 20th Century. Examining the confluence of social Darwinism, euthenics, and eugenics within architecture, landscaping of green spaces, urban planning, and urban policy, she demonstrates how the city was designed and stratified in an effort to socially engineer and (re)produce a "fit" labor force, an "intelligent" electorate, and a "gentile" citizenry.