We are pleased to announce an online lecture by
Carsten Junker
(TU Dresden)
Field Notes toward American Studies as Relational Diversity Studies
This lecture is going to be the a part
of the 2021/2022 Spring Edition of the
American Studies Colloquium Series.
Thursday, March 3, 2022
at 5:15 p.m.
You can get 2 OZN points for participating in this event.
Check how to collect OZN points online here.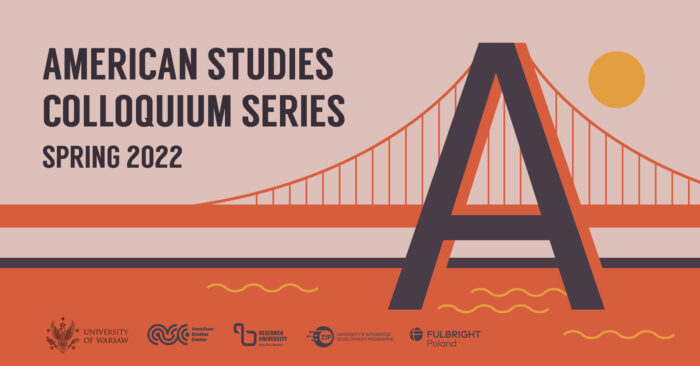 poster by Joanna Bębenek
What?
The lecture provides reflections on the study of demographic diversity in scenarios of inequality in the broader field of American Studies. Questions to be addressed include: how can "Diversity Studies" be approached? What are the historical conditions for its institutionalization? What are its archives and theoretical frameworks? What role do ethical questions play in this endeavor? The lecture seeks to address from the ground up, as it were, the premises and repercussion of an academic project, of which the object of study—diversity—does not exist per se.
Who?
Prof. Carsten Junker is University Professor of American Studies with a focus on Diversity Studies at TU Dresden, Germany. He is teaching at the ASC during the spring semester 2022, in the framework of the University of Warsaw's Integrated Development Program (ZIP). His research interests include North American literatures and cultures including Canada and the Caribbean from the seventeenth century to the present, with a special emphasis on the connections between formalizations of cultural patterns and social differentiations, including discursive struggles.
Prof. Junker is staying at the ASC as ZIP Visiting Professor  for two months, from February to April 2022. He is teaching the lecture "Writing against Slavery: Early American Abolitionist Discourses and their Repercussions" as a part of the MA studies program, giving a talk within the American Studies Colloquium Series, and is available for individual consultations, especially for students interested in African American literature and culture.
The Visiting Professorship is offered within the framework of the University's Integrated Development Programme (ZIP). The University's Integrated Development Programme (ZIP) is a comprehensive project focused on improving the quality and effectiveness of education in Bachelor, Master and Doctoral programmes, as well as supporting adaptation of the University's offer to the needs of the economy, labour market and the society. The programme ZIP is co-financed by the European Union within the European Social Fund; its budget is PLN 39 393 989.40. More information available at: https://www.zip.uw.edu.pl/node/192