Leadership Studies Group is happy
to announce a conversation with
Charlie Leduff
Is America Doomed? A Critical Reflection from the Inside
Wednesday, May 5, 2021
at 5 p.m.
You can get 2 OZN points for participating in this event.
Check how to collect OZN points online.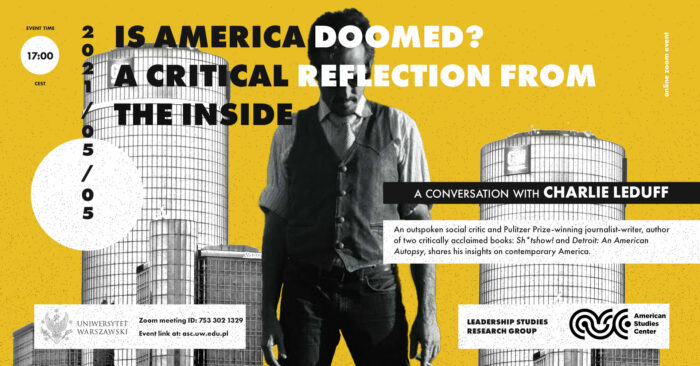 What?
This will be a conversation with one of the leading public intellectuals in contemporary America. Mr. Leduff is going to share with us his insights as to the direction in which American society and politics are heading. His often controversial opinions address the core of the issues which "bother" America and Americans. Mr Leduff is going to make himself available for Q&A after the talk.
Who?
Charlie Leduff is an outspoken social critic of contemporary American society, a Pulitzer winning journalist-writer, author of many critically acclaimed books, such as the two most recent ones: Sh*tshow! and Detroit: An American Autopsy (both translated to Polish).