We are delighted to invite you to the third talk of the Fall 2022/2023 semester of the American Studies Colloquium Series:
Jakub Kowalewski
(Birkbeck, University of London/St Mary's University)
The Shapes of Apocalyptic Time: Decolonising Eco-Eschatology
 This is an in-person event.
Thursday, October 27, 2022
at 4:45 p.m.
You can get 3 OZN points for participating in this event.
Check how to collect OZN points online here.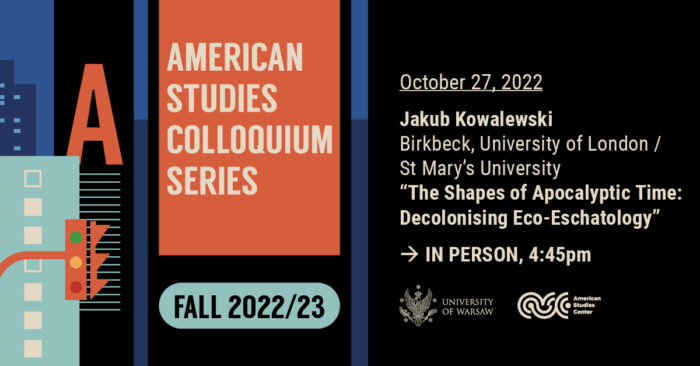 Where?
Room 317
al. Niepodległości 22, Warsaw
(the building features some mobility accommodations: ramp and lift)
What?
In a recent article, Delf Rothe argues that contemporary ecological discourses are "deeply influenced by a linear temporality and a common orientation towards the threat of the end of time" derived from Christian eschatology (Rothe, 2020). Importantly, the belief that historical time is a single line leading to an apocalyptic event, generates two serious, interrelated problems for eco-eschatologies:
P1: The linear view of time centred around a present climate crisis or a future ecological catastrophe disregards past "ends of the world" experienced by colonised communities.
P2: The single timeline, expressed for instance in a narrative about future human extinction common to eco-apocalyptic discourses, creates faux-universalism by concealing the spatial and temporal distributions of the climate crises.
The aim of this paper is to offer a theoretical corrective to eco-eschatologies by proposing an alternative model of eschatological time capable of addressing both P1 and P2. In order to do so, I will first argue that the model of historical time found in apocalyptic literature is not a line but a spiral which combines linear and cyclical elements. Such an understanding of time would respond to P1 by recognising the connection between the past, present and future apocalypses, and the constitutive role of past "ends of the world" for an eco-eschatological history. I will then argue that apocalyptic discourse presupposes multiple timelines, whose relationship can be understood as a non-contemporaneous historical totality. I will sketch the latter in order to show how such a model of time can address P2. I will conclude by suggesting that a twofold understanding of eco-eschatological time – as a spiral and as a non-contemporaneous totality – can help us to devise, respectively, tactics and strategy for decolonial environmental politics.
Who?
Jakub Kowalewski works at Birkbeck, University of London and at St Mary's University. He is the editor of "The Environmental Apocalypse: Interdisciplinary Reflections on the Climate Crisis" (forthcoming with Routledge), and is currently writing a book, also for Routledge, entitled "A Philosophy of Climate Apocalypticism: In and Against the World." Jakub holds a PhD in philosophy from the University of Essex.