We are pleased to announce an online lecture by
Sorcha Ní Fhlainn
(Manchester Metropolitan University)
Hey honey, I think we should move…': Gothic Property, (Re)Possession, and economic horror in the long 1980s
This lecture is going to be the a part
of the 2020/2021 Spring Edition of the
American Studies Colloquium Series.
Thursday, April 22, 2021
at 4:45 p.m.
You can get 2 OZN points for participating in this event.
Check how to collect OZN points online.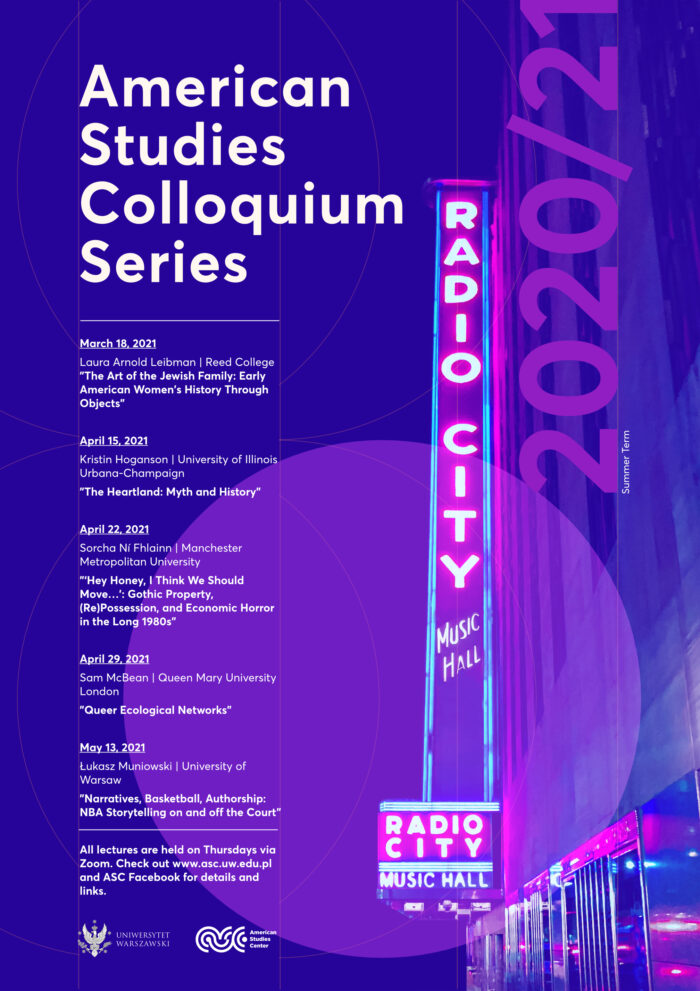 poster by Paulina Derecka (@paulinaderecka)
What?
During the popular rise of the horror film in the 1980s, social anxieties around property, homeownership, and social and financial precarity underpinned much of the cultural landscape in popular horror. The focal point of this terror locates the domestic property and its outward concerns of surface, class, fiscal terror and cultural memory as undercurrents marked on to the homestead as social stains of the past that could not be obscured by the optics of Reaganism and its consumerist positivism and neoliberal message of upward mobility at all costs. At first glance during this decade of slasher massacres and increased body horror, Haunted homes and Gothic properties were a secondary source of disturbance, distanced by its seemingly lack of direct consequence in the age of tangible markers of financial and cultural indices of success. This lecture examines touchstone films of the decade to document the invasion, repossession and ethnic anxieties rampant in 1980s popular cinema, and posits the decade's reigning ideology as a failed economic project that failed to deliver on social inclusivity in favour of 'me-generation' whiteopian protectionism. 
Who?
Dr Sorcha Ní Fhlainn is Senior Lecturer in Film Studies and American Studies, and founding member of the Manchester Centre for Gothic Studies, at Manchester Metropolitan University. She is the Chair of the British Association for Film Studies, Television Studies and Screen Studies (BAFTSS). She has published widely in the fields of Gothic and Horror Studies and Popular Culture, specializing in monsters, subjectivity, and cultural history. Her recent books include Clive Barker: Dark imaginer (Manchester University Press, 2017), and Postmodern Vampires: Film, Fiction and Popular Culture (Palgrave, 2019). She is currently leading a project on the long 1980s onscreen and its cultural legacy.