We are pleased to announce an online lecture by
Matthew Levay
(Idaho State University/University of Warsaw)
The Look of the Past: Anachronism and Critique in Contemporary Comics
This lecture is going to be the a part
of the 2021/2022 Spring Edition of the
American Studies Colloquium Series.
Thursday, April 7, 2022
at 5:15 p.m.
You can get 2 OZN points for participating in this event.
Check how to collect OZN points online here.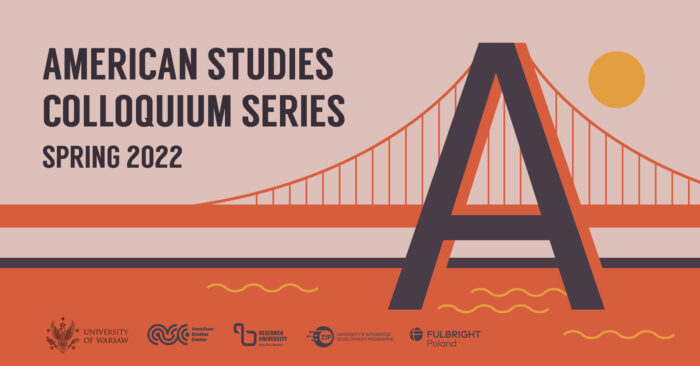 poster by Joanna Bębenek
What?
Why do so many contemporary cartoonists deliberately mimic the visual styles of early twentieth-century popular culture, producing work that appears much older than it actually is? This talk attempts to answer that question through the example of the American cartoonist Al Columbia, whose horror comics adopt and repurpose the iconography of 1920s and '30s-era animation through an anachronistic aesthetic that is far more critique than homage. Levay argues for Columbia's as a vital figure in experimental comics' fascination with anachronism as a mode for engaging with the cultural politics of comics form and the social logics that underlie them. Throughout, his talk demonstrates how the anachronistic aesthetic practiced by Columbia and other contemporary American cartoonists offers a way for artists to come to terms with their medium's past, and to reckon with the most troubling elements of comics history in original, if unsettling ways.
Who?
Matthew Levay is an Associate Professor and Director of Graduate Studies in English at Idaho State University, and he is currently in residence at the American Studies Center as the Fulbright Distinguished Chair in Humanities and Social Sciences. He is the author of Violent Minds: Modernism and the Criminal, published by Cambridge University Press in 2019, and his articles have appeared in the Journal of Modern Literature, Modernism/modernity, and Modernist Cultures, among other venues. He is also the guest editor of a special issue of the Journal of Modern Periodical Studies on "Seriality," and he now serves as the Book Review Editor of that journal. His talk this evening is from his current book-in-progress, on the formal use of anachronism in contemporary comics and graphic narratives.