We are pleased to announce an online lecture by
Brian Willems
(University of Split)
Sham Ruins, A User's Guide
This lecture is going to be the a part
of the 2021/2022 Fall Edition of the
American Studies Colloquium Series.
Thursday, December 9, 2021
at 5:15 p.m.
You can get 2 OZN points for participating in this event.
Check how to collect OZN points online here.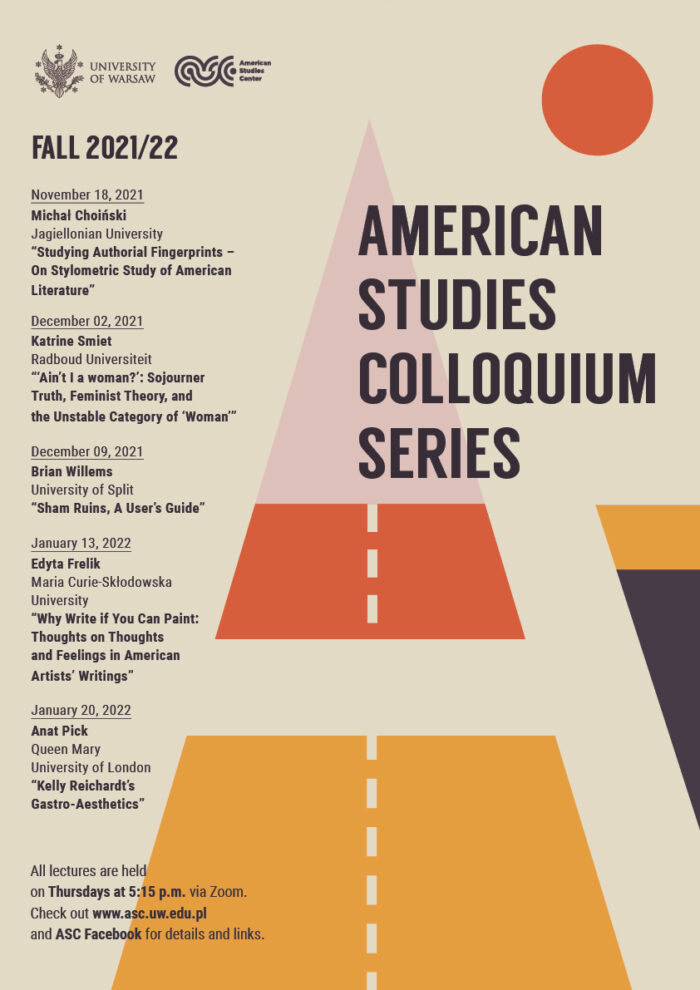 poster by Joanna Bębenek
What?
In 1740s England a new fad found its way into the gardens of the well-to-do: building fake Gothic ruins. Newly constructed castle towers and walls looked like they were already falling apart, even on the first day of their creation. Made of stone, plaster, or even canvas, these "sham ruins" are often taken as an embarrassing blip in English architectural history. However, their reevaluation can help in identifying the sham ruins of our own age as well as in understanding what makes a freshly minted broken object attractive in any period.
This talk focuses on a number of American sham ruins such as the pseudo-crumbling BEST product showrooms by Sculpture in the Environment, Sturtevant's replications of artwork by the likes of Andy Warhol and Jasper Johns, as well as the non-functioning homes in films like Francis Ford Coppola's The Conversation. The main question of this talk is: What is it that sham ruins ruin? In other words, if real ruins are ruins of what they actually are, meaning that the ruins of the Acropolis are a real ruined Acropolis, then perhaps sham ruins should be considered ruins of what they are not. Sham ruins are about representing what is unrepresented. They are about imposing new meaning where such meaning does not and should not exist. Sham ruins are lies, ruses, and embarrassments. And this is what gives them the power with which we can think about seeing images in new, unintended ways.
Who?
Brian Willems is Assistant Professor at the University of Split, Croatia, where he teaches literature at the Faculty of Philosophy and film theory at the Arts Academy. He is the author of Hopkins and Heidegger and Facticity, Poverty and Clones: On Kazuo Ishiguro's 'Never Let Me Go'.