We are pleased to announce an online lecture by
Anat Pick
(Queen Mary University of London and Helsinki Collegium for Advanced Studies)
Kelly Reichardt's Gastro-Aesthetics
This lecture is going to be the a part
of the 2021/2022 Fall Edition of the
American Studies Colloquium Series.
Thursday, January 20, 2022
at 5:15 p.m.
You can get 2 OZN points for participating in this event.
Check how to collect OZN points online here.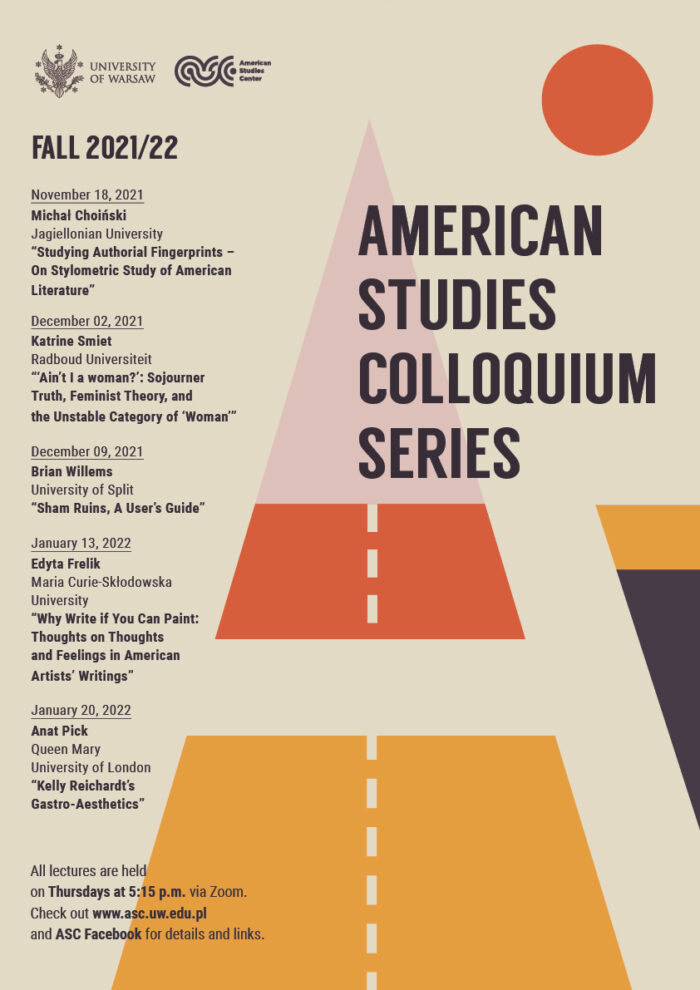 poster by Joanna Bębenek
What?
This talk examines cinematic figurations of food, what I am calling the "gastro-aesthetics" of cinema, in Kelly Reichardt's First Cow (2020). Taking its cue from the philosopher Simone Weil's analogy between looking and eating, gastro-aesthetics thinks through cinema's dual impulse to look and to eat, to preserve and devour the world within and beyond the frame.
Tensions between looking and eating emerge in Reichardt's approach to farmed animals, whose agency is undermined, whose labour is largely invisible, and whose bodies or products are objects of consumption. In First Cow, aesthetic and gastronomic consumption converges in the figure of the cow as an image and as a source of milk. How should we think about the visual consumption of images of dairy consumption?
From River of Grass (1994) through Wendy and Lucy (2008) to First Cow, animals are ubiquitous in Reichardt's films. Yet while dogs often display autonomy and agency, exemplifying Reichardt's signature aesthetics of contingency, farmed animals remain—in film as in life—sources of value-extraction. The role of dairy in First Cow, I claim, conjoins the film's culinary palate and its artistic palette. The gentle sociality at the heart of First Cow and the film's stylistic and narrative openness are subtended by the agricultural practices that control and consume animals. In the face of Reichardt's attentiveness to the nonhuman and to the subtleties of interspecies entanglements, this first cow (the first of an endless array of anonymous cows in America's dairy industry) remains the film's obscure source of violent extraction.
Who?
Anat Pick is Reader in Film at Queen Mary University of London, UK, and a Research Fellow at the Helsinki Collegium for Advanced Studies, at the University of Helsinki, Finland. She is author of Creaturely Poetics: Animality and Vulnerability in Literature and Film (2011), and coeditor of Screening Nature: Cinema Beyond the Human (2013) and Religion in Contemporary Thought and Cinema (2019). Her most recent work addresses the links between vegan ethics and film. She is currently writing a book on the religious philosophy of Simone Weil and cinema.