We are pleased to announce an online lecture by
Richard Reitsma
(Buffalo Canisius College)
Eat, Migrate, Love: Gastronomic and Sexual Desire as Identity
This lecture is going to be the a part
of the 2021/2022 Spring Edition of the
American Studies Colloquium Series.
Thursday, June 2, 2022
at 5:15 p.m.
You can get 2 OZN points for participating in this event.
Check how to collect OZN points online here.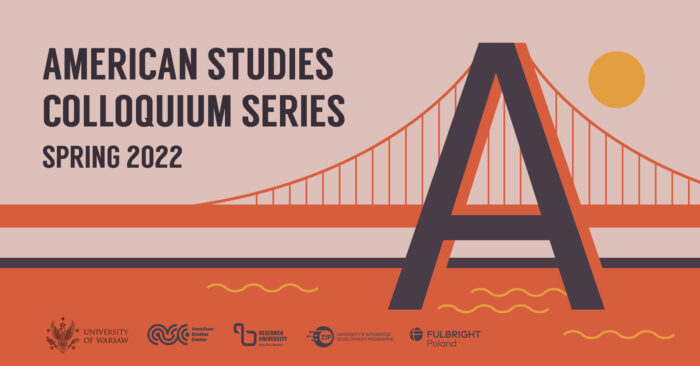 poster by Joanna Bębenek
Where?
This lecture will be streamed online. To attend, click the button below or enter __ into your browser, and join the meeting.
What?
"Eat, Flee, Love (or was it Eat, Migrate, Love??): Gastronomic and Sexual Desire as Identity" plays off the Julia Robert's film "Eat, Pray, Love". This talk is a beginning exploration of queer films which explore queer immigrants' relationships to food as part of the cultural identity they carry with them, and how the rituals around food preparation and consumption informs their negotiations in the US. The talk delves into questions such as: What does food tell us about history? How is food tied to identity? How does food tell us about migration and how is food changed via migration? What is the food of love? How do queer people negotiate their ties to their culture through food when that culture's opprobrium is often what motivated them to flee and migrate? How does food function as language or communication?
Who?
Richard Reitsma, PhD, Chair of the Department of Modern Languages, Literatures, and Cultures, and Associate Professor of Spanish and Latin American Studies at Canisius College, Buffalo, NY, received his M.A. from Purdue University, and his Ph.D. in Comparative Literature from Washington University in St. Louis. His doctoral research focused on issues of gender, sexuality, and race in plantation literature of the American South, Cuba, and Puerto Rico. At Canisius, Richard teaches Spanish, Latin American Studies, and Honors courses. A longtime judge for the Lambda Literary Awards, his current research concentrates on gender and minority representation in literature and film of the American South, U.S. Latinos, and Latin America. Past research and publications include an examination of messages of diversity and tolerance in children's animated movies, an exploration of the tensions between sexuality and ethnic identity in Latino film, and "Lethal Latin Lovers: Sex and Death in Latin American Cinema," and "Sexuality, Masculinity, and the State in Cuba, Puerto Rico, and the Dominican Republic." Current research revolves around three areas: Interviews with immigrants deported from the United States to Mexico and their struggles to adapt; an historical look at how Buffalo manufacturing profited from slavery in the Caribbean; and an exploration of the LGBTQ movement in Santa Clara, Cuba as a model for intersectionality in the face of crisis. Dr. Reitsma is also the founder and director of the Borders & Migrations Initiative an interdisciplinary series of films, art work, speakers, workshops, research, teaching materials, and community outreach.