We are pleased to announce an online lecture by
Łukasz Muniowski
(University of Warsaw)
Narratives, Basketball, Authorship: NBA Storytelling on and off the Court
This lecture is going to be the a part
of the 2020/2021 Spring Edition of the
American Studies Colloquium Series.
Thursday, May 13, 2021
at 4:45 p.m.
You can get 2 OZN points for participating in this event.
Check how to collect OZN points online.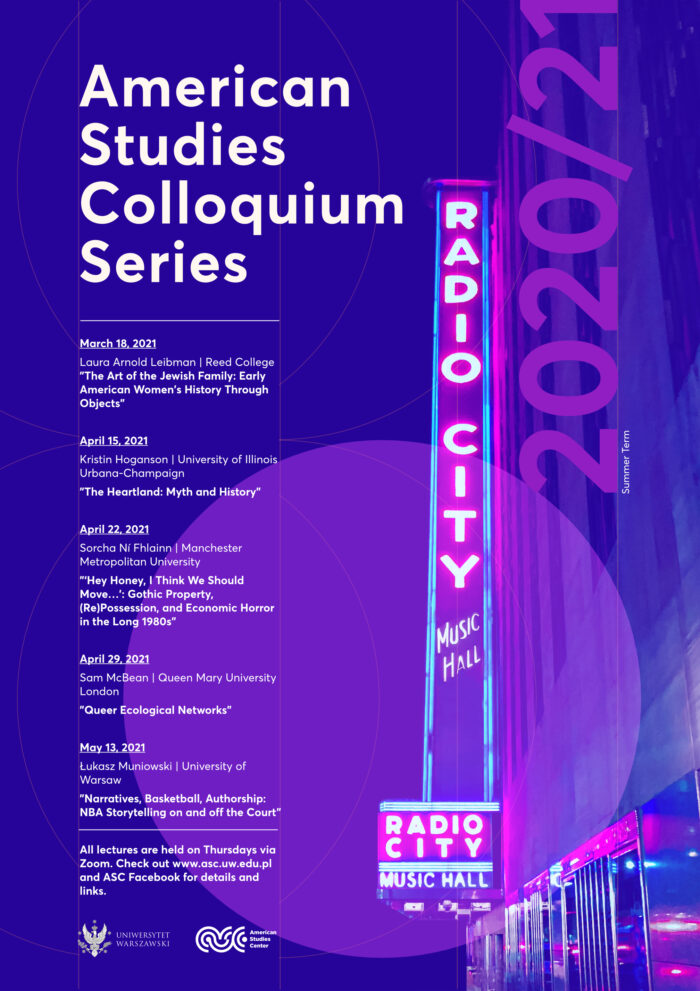 poster by Paulina Derecka (@paulinaderecka)
What?
This presentation is devoted to narratives created around the National Basketball Association, the best basketball league in the world. I will incorporate the material from the three books on the NBA that I have written so far in order to construct a comprehensive picture of today's NBA from a cultural studies perspective. In the first part, I am going to present several players: their private and public personas as well as their depictions in the media. The athletes have been picked not only on the basis of the success that they enjoyed on the basketball court but primarily because of the significance of their career narratives. All represent certain archetypes, prevalent not only in the world of professional basketball but in wider contemporary culture. These tropes can be mostly found in biographies and autobiographies of leading sports stars, although, as I intend to prove, they are not necessary to form a captivating story.  The analysis of the athletes' life writing will be complemented with an examination of other cultural narratives in the world of basketball. In the second part of the talk, I will highlight the importance of the three-point shot and the bench in achieving success in the modern-day NBA. Finally, I will try to explain why all of this can be actually interesting for an academic who is not interested in sports.
Who?
Ph.D. in American Literature from the University of Warsaw. Assistant Professor at Wszechnica Polska Szkoła Wyższa w Warszawie, lecturer at Społeczna Akademia Nauk, and English teacher at Prywatne Liceum Ogólnokształcące im. Zuzanny Ginczanki. Author of Three-Pointer! A 40-Year NBA History (McFarland, 2020), Narrating the NBA: Representations of Leading Players after the Michael Jordan Era (Lexington, 2021), and The Sixth Man: A History of the NBA Off the Bench (McFarland, 2021). Co-editor (with Aldona Kobus) of Sex, Death and Resurrection in Altered Carbon: Essays on the Netflix Series (McFarland, 2020). In the near future, he will edit three collections of essays – on the Uncharted video game series (McFarland, with Kamil Chrzczonowicz), on boredom (European Journal of American Studies, with Anna Pochmara), and on the works of Truman Capote (Warsaw University Press). He is also working on two book projects: one on James Harden and the Houston Rockets (with Albert Ambroziewicz) and another on the 35-year history of the New Jersey Nets basketball team and its relationship with the state of New Jersey.