We are pleased to announce an online lecture by
Michael S. Kochin
(Tel Aviv University)
Showdown at Fort Miamis: The Anglo-American Crisis of 1794
This lecture is going to be the first talk
of the 2020/2021 Fall Edition of the
American Studies Colloquium Series.
Thursday, November 19, 2020
at 4:45 p.m
You can get 2 OZN points for participating in this event.
Check how to collect OZN points online.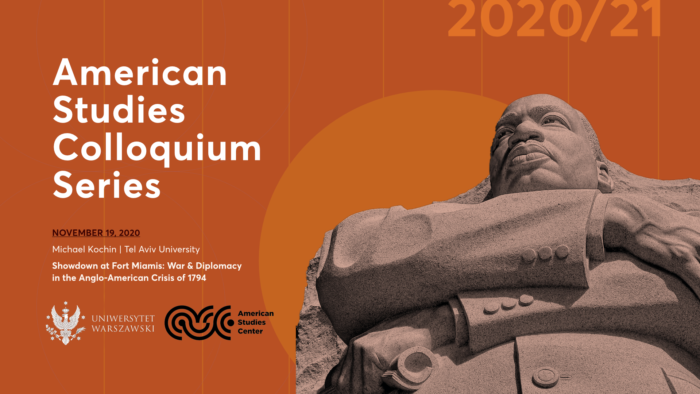 poster by Paulina Derecka (@paulinaderecka)
What?
Are we to think of the United States of America as a republic or an empire? In particular, are we to think of the struggling United States that Michael Taylor and I discuss in our new book as a republic or an empire? Was the principal goal of the early republic to become a respected member of an international community of states who governed their relations according to the law of nations? Or to become a regional hegemon dominating North America beyond all fear of challenge, the veritable arbiter of affairs in both North and South America, and thereby separate its future from the futures of European empires and the European state system? In this talk, derived from our book, I show how the Anglo-American crisis of 1794 displays the United States as both a rising empire and a revolutionary and subversive power.
Who?
Michael S. Kochin is Professor Extraordinarius in the School of Political Science, Government, and International Relations at Tel Aviv University. He received his A.B. in mathematics at 19 from Harvard and his M.A. and Ph.D. in political science from the University of Chicago. He has held visiting appointments at Yale, Princeton, Toronto, Claremont McKenna College, and the Catholic University of America.
He has written widely on the comparative analysis of institutions, political thought, politics and literature, and political rhetoric. Kochin is the author of three books: Gender and Rhetoric in Plato's Political Thought (2002), Five Chapters on Rhetoric: Character, Action, Things, Nothing, and Art (2009) and (with the historian Michael Taylor) An Independent Empire: Diplomacy & War in the Making of the United States (2020). He is a 30th degree Freemason and reigning First Principal of Holy City Royal Arch Chapter #3, Supreme Grand Royal Arch Chapter of Israel.