We are delighted to invite you to the last lecture of the 2022/2023 Spring semester of the American Studies Colloquium Series:
Karen Holmberg
(Oregon State University)
Reckless Shelter: Contemporary Ecopoetic Practice
 This is an in-person event.
Thursday, June 1, 2023
at 4:45 p.m.

You can get 3 OZN points for participating in this event.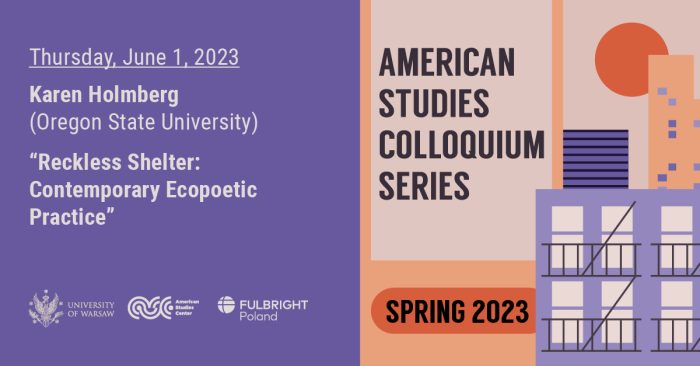 Where?
Dobra 55, room 2.118
(the building features some mobility accommodations: ramp and lift)
What?
Of my second book, Axis Mundi, Sidney Wade wrote "Karen Holmberg communicates a profoundly maternal relationship with fellow travelers in all disguises—box turtle, mayfly, slug, nettle…" In my third poetry manuscript, which is centered around mothering, the loss of my own mother to brain cancer, and the simultaneous safety and precarity of shelters, I decided to lean into this assessment. In poems about the natural world, I meditate on the different ways we are capable of living—in violence and destruction, or in abundance, nurture, and connection. During this presentation, I will talk about the engagements with environmental and ecological initiatives at Oregon State that have shaped me and my recent work, while sharing and discussing sample poems that show my lifelong preoccupations with language as a living matter and one of the chief tools humans have for "being toward and becoming with" the natural world.
Who?
Karen Holmberg was born and raised in Connecticut, near the Long Island Sound. Her two prize-winning poetry volumes are The Perseids (University of North Texas Press) and Axis Mundi (BkMk Press, named by Slate Magazine as one of the top 10 poetry books of 2013). individual poems have appeared widely in literary magazines, including Interim, Southern Poetry Review, and New South. In addition to writing poetry, she writes and publishes lyric essays and art criticism, with work appearing in At Length, Tupelo Quarterly, and in the volume Making Impressions: Women in Printing and Publishing (Legacy Press). Her first young adult novel, The Collagist, won the 2021 Acheven Prize and will be published by Regal Press/Fitzroy Editions in 2024. A member of the MFA in Creative Writing faculty at Oregon State University, she teaches courses in poetry writing, literature and the environment, and letterpress printing and printing history, and also advises and develops curriculum for OSU's Environmental Arts and Humanities program and the Marine Studies Initiative.