We are pleased to announce an online lecture by
Kristin Hoganson
(University of Illinois Urbana-Champaign)
The Heartland: Myth and History
This lecture is going to be the a part
of the 2020/2021 Spring Edition of the
American Studies Colloquium Series.
Thursday, April 15, 2021
at 4:45 p.m.
You can get 2 OZN points for participating in this event.
Check how to collect OZN points online.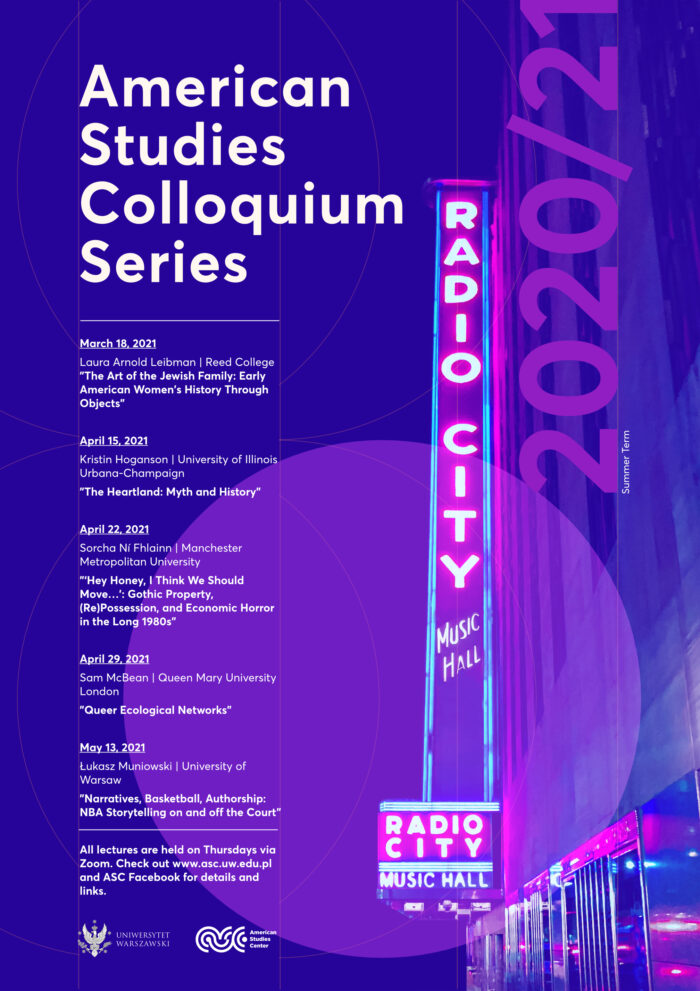 poster by Paulina Derecka (@paulinaderecka)
What?
What is the American heartland? In popular usage, the term refers to a quintessentially all-American place: white, buffered, bunkered, isolationist, exceptionalist, and local. This set of conceptions is often mapped onto place: the small-town and rural Midwest. This talk will take the history of a seemingly local place in a seemingly local time to turn the myth of the American heartland inside out.
Who?
Kristin Hoganson is the Stanley S. Stroup Professor of United States History at the University of Illinois, Urbana-Champaign. She is the author of Fighting for American Manhood: How Gender Politics Provoked the Spanish-American and Philippine American Wars (1998); Consumers' Imperium: The Global Production of American Domesticity, 1865-1920 (2007),The Heartland: An American History (2019), and co-editor (with Jay Sexton) ofCrossing Empires: Taking U.S. History into Transimperial Terrain (2020).