We are delighted to invite you to the fifth talk of the Fall 2022/2023 semester of the American Studies Colloquium Series:
Melody Jue
(UC Santa Barbara)
Wild Blue Media: Encountering the Bookshelf, Underwater
This is an online event.
Thursday, January 12, 2023
at 5:15 pm
You can get 2 OZN points for participating in this event.
Check how to collect OZN points online here.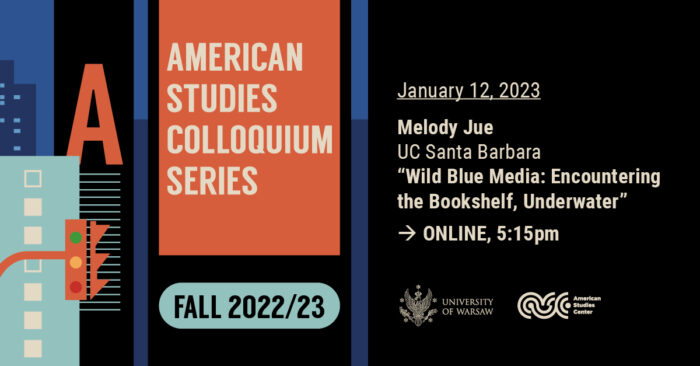 What?
What would media and literary studies look like, underwater? In Wild Blue Media: Thinking Through Seawater (2020), I show how the ocean can be a science fictional environment for defamiliarizing concepts, offering cold and briny contexts in which to rethink what it means to store and organize information. After outlining how scuba diving can be a valuable method in the humanities and media studies, I present an analysis of an underwater structure nicknamed a "bookshelf reef" near UC Santa Barbara. The bookshelf is normally a terrestrial infrastructure of informatic organization; yet by displacing it underwater, I draw attention to the importance of gravity and buoyancy in defining interactions with the bookshelf as an archival infrastructure.
Who?
Melody Jue is Associate Professor of English at the University of California, Santa Barbara. She is the author of "Wild Blue Media: Thinking Through Seawater" (Duke University Press, 2020), which won the 2020 Speculative Fictions and Cultures of Science book award. She is the co-editor with Rafico Ruiz of "Saturation" (Duke Press, 2021) and has published articles in journals including Grey Room, Configurations, Women's Studies Quarterly, Resilience, and Media+Environment. Her new work explores the mediations of seaweeds in trans-Pacific contexts.