We are pleased to announce an online lecture by
Tadeusz Sławek
(University of Silesia)
'Like a Thief in the Night': Pandemic and the Culture of Healing
This lecture is going to be the a part
of the 2020/2021 Fall Edition of the
American Studies Colloquium Series.
Thursday, November 26, 2020
at 4:45 p.m
You can get 2 OZN points for participating in this event.
Check how to collect OZN points online.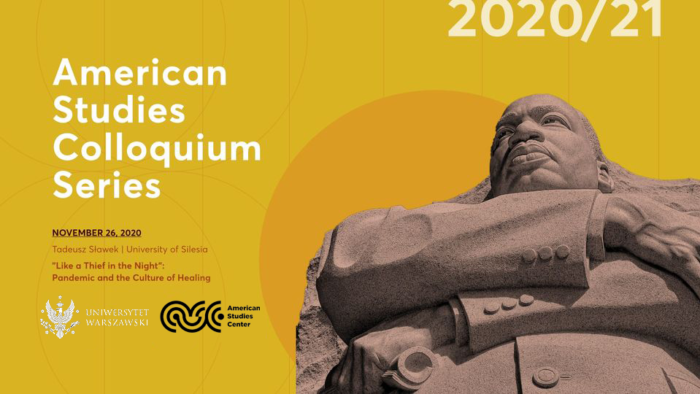 poster by Paulina Derecka (@paulinaderecka)
What?
In 1987 the Australian rock band Midnight Oil soared high on the world charts with their song Beds Are Burning. Its message was an appeal to recognize the rights of the original tribal populations of Australia as well as a call for more respect for the natural environment. Borrowing the Midnight Oil's rhetorical concept, it is just to claim that today we are in a situation in which our beds are burning in a nearly literal sense. Air pollution submerging cities in clouds of smog, democracies wavering all over the world, mounting nationalisms and waves of chauvinistic and wall-building politics, over a million dead of a virus the existence of which many people do not seem to admit.
The pandemic is a virus, but it is more than this: it is a dramatic symptom of the malaise of the way of life, a sharp curve which we cannot fail to negotiate. Starting from the 17th century time of the plague, we shall be asking questions how to survive the crisis, how to live on, and how to think the change without which our future is bleak. It is a particularly important mission of the humanities to respond to the challenge of the catastrophe; respond with hope, expressly stated by Hölderlin: "But where the danger is, also grows the saving power." Looking at various texts (from 17 th century London to Louise Glück) will be trying (no more than trying) to find this "saving power" and grope towards the "culture of healing".
Who?
Tadeusz Sławek, professor of comparative literature at the University of Silesia, between 1996 and 2002 the Rector of this University. With the double bass player Bogdan Mizerski performs essays for voice and double bass. Most important publications: The Typewriter. On Jacques Derrida's Theory of Literature (with Tadeusz Rachwał) (1992), Calling of Jonah. Problems of Literary Voice (with Donald Wesling) (1995), Man, World, Friendship in the Works of William Blake (2001), Revelations of Gloucester (2003, Grasping. H.D. Thoreau and the Community of the World (2009), Reversing the World. Sentences from Shakespeare (2012), Departing (2015), Never without the Rest. On the Urgency of Incompleteness(2018).