We are pleased to announce an online lecture by
Tracey M. Salisbury
(California State University)
Black on the Range: Recentering the History and Culture of Black Americans in the Old West
This lecture is going to be the a part
of the 2021/2022 Spring Edition of the
American Studies Colloquium Series.
Thursday, March 17, 2022
at 5:15 p.m.
You can get 2 OZN points for participating in this event.
Check how to collect OZN points online here.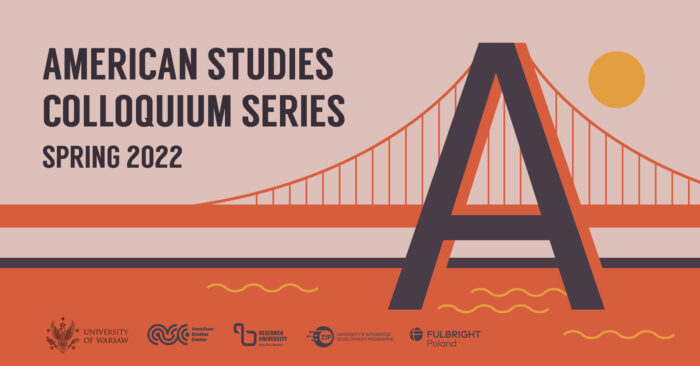 poster by Joanna Bębenek
What?
The history, culture, and contributions of Black Americans to the founding, development, and shaping of the American West have been long overlooked, completely forgotten, or purposely removed from American history. A recent collective of feature films, specifically, Concrete Cowboy (2020) and The Harder They Fall (2021) as well as the documentaries, Fire On The Hill (2018) and Cowboy: The Story of Wilbert Freeman McAlister (2021) have led to renewed interest in the history, personal stories, and socio-cultural legacies of Black Americans in the Old West. This talk will address the past history and contributions of Black Americans to the creation and establishment of the Old West by (re)centering Black Americans within the heart of the American West and highlighting their creativity in maintaining a rich representation of Black western life and legacy.
Who?
Dr. Tracey M. Salisbury is an Assistant Professor of Ethnic Studies at California State University, Bakersfield, where she has been a faculty member since 2017. She teaches Black Studies, and Women's, Gender, and Sexuality Studies courses within the Ethic Studies/Interdisciplinary Studies program as well as Sport History and Sport Sociology courses for the Kinesiology department. Dr. Salisbury graduated with a BA in Political Science from Holy Cross College and a MA in Sport Administration from Central Michigan University. She earned her PhD in Kinesiology with an emphasis in Sport History, Sport Sociology and American/African American History from the University of North Carolina, Greensboro. Dr. Salisbury's research interests focus on Black women and sport, Black Feminism, Afrofuturism, Black popular culture particularly, rap music and hip-hop culture, Black Americans and the American West, and film studies focusing principally on the horror genre. She is a certified horror film fanatic and proud of it.